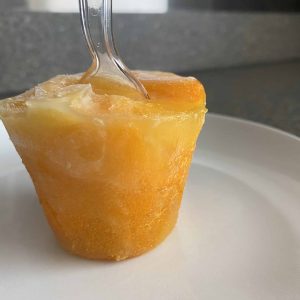 Peachy Pops
A perfect frosty, fresh treat on a hot summer day! Fresh peaches combined with creamy yogurt make a healthy, fun snack.
Ingredients
2

fresh

peaches

OR 2 cans of peaches

2/3

cup

yogurt, low-fat vanilla

2

cups

100% orange juice

6

small

paper cups

6

spoons

plastic or wooden
Instructions
Wash, peel and chop fresh peaches or drain and chop canned peaches.

Spoon peaches into the 6 paper cups.

Place the yogurt in a medium mixing bowl.

Slowly pour the orange juice into the yogurt while stirring. Mix well.

Pour some of the juice and yogurt mixture into each cup to cover the peaches.

Place a spoon in the center of each cup.

Cut 6 squares of aluminum foil big enough to cover the tops of the cups. Push each spoon handle through the foil. The foil will hold the spoon in the center of the cup.

Place cups in the freezer for at least 4 hours.

Just before serving, peel the paper cups away from the pops to eat.
Video
Notes
Smart Shopping Tips
When buying fresh peaches, give them a sniff. They should be fragrant and smell sweet. They should also yield to slight pressure and not feel hard.
Unripe peaches can be placed in a paper bag on the counter for a few days to ripen. Store ripe peaches in the refrigerator. Use them within a week.
Read the labels on yogurt and choose those with less sugar.
If using canned peaches, look for those stored in juice or light syrup.
Cooking & Serving Tips:
You can adjust the ingredients for what you have on hand. Use any kind of juice, yogurt or fruit.
Add some chopped strawberries (fresh or frozen) for a pop of color.
Muffin cups can be used instead of paper cups.
Popsicle sticks can be used in place of spoons.