Apple Crumb Dessert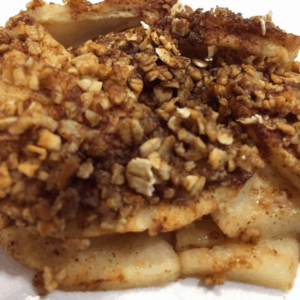 Apple Crumb Dessert
Cinnamon spiced apples are baked with a sweet oat crumble in this simple and satisfying dessert that can be a great addition to a savory winter meal.
Ingredients
4

medium

apples

1/2

cup

uncooked oats

1/4

cup

brown sugar, packed

2

teaspoons

cinnamon

1/3

cup

apple juice

Cooking oil spray
Instructions
Preheat oven to 350 degrees.

Spray the bottom and sides of a 9-inch square baking dish with cooking oil spray.

Wash and peel the apples. Cut them into thin slices.

Spread the apple slices evenly over the bottom of the baking dish.

In a small bowl, use a fork to mix the oats, brown sugar and cinnamon.

Sprinkle the oats mixture evenly over the apples in the baking dish.

Lightly pour the apple juice over the oats mixture.

Cover the dish with foil and bake for 20-30 minutes until apples are just starting to soften.

Uncover and bake for another 15-20 minutes until apples are soft.
Notes
Smart Shopping Tips
The freshest apples are available from September to November although most varieties are available throughout the year.
Purchase well-colored apples that are firm and smooth with no bruises.
Apples don't need to be refrigerated unless you don't plan to eat them soon. Refrigerate in the crisper drawer away from other produce, as they give off a gas which will speed ripening.
Cooking & Serving Tips:
Once apples are cut they will start to discolor if left open to the air. To avoid discoloration, dip them in any citrus juice such as orange or lemon. Pineapple juice also works.
Granny Smith, Honeycrisp and Golden Delicious apples are great for this recipe. These apples hold their shape well when cooked and their sweet flavor gets stronger when baked in pies, cakes and pastries.