Arroz con Pollo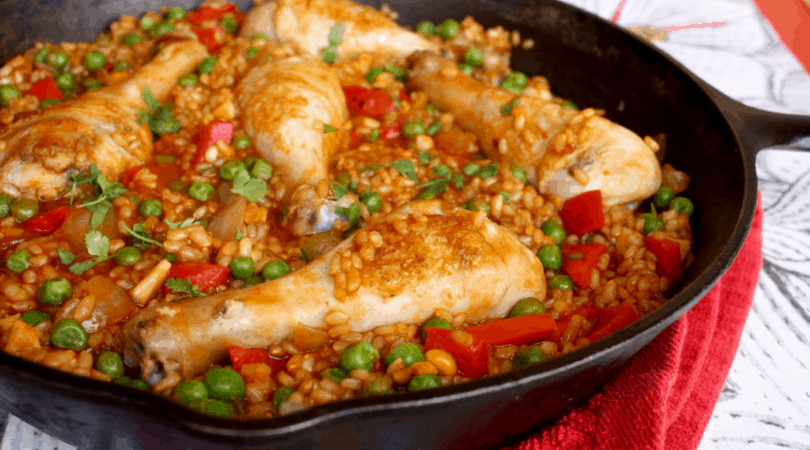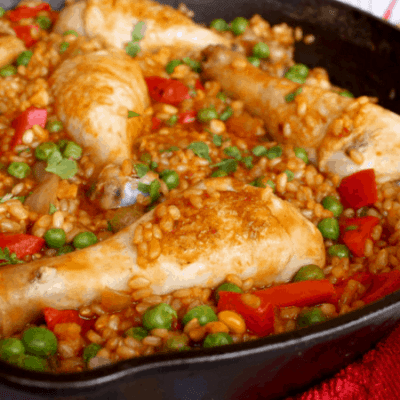 Arroz con Pollo
This Latin-inspired chicken and rice dish is sure to be a hit! Flavored with aromatic vegetables and simmered in chicken stock, it's an easy one-pot solution for dinner tonight!
Ingredients
1

onion

1

red or green bell pepper

3

cloves

garlic

2

tomatoes

2

tablespoons

canola oil

1

whole chicken

2-1/4

cups

low-sodium chicken stock

1

bay leaf

1

cup

uncooked brown rice

1

cup

frozen peas

Salt and pepper to taste
Instructions
Wash and chop the onion, bell pepper, garlic and tomato. Set chopped tomato aside in a small bowl.

Cut the chicken into six pieces (breast, legs, thighs) and remove skin. Set the wings and back aside for making stock.

In a large skillet, heat oil over medium heat and sauté onion, bell pepper and garlic for 5-7 minutes.

Add tomato, chicken broth, chicken pieces, bay leaf, salt pepper to taste.

Cover and simmer gently for 20 minutes.

Add rice, stir well, cover and simmer for 40 minutes longer, or until all liquid has been absorbed and chicken is tender.


Add peas, cook 2-3 minutes or just until warmed through.
Notes
Smart Shopping Tips
It is often cheaper to buy a whole chicken than to buy pieces. If you know how to cut it up, then extra parts can be frozen for later use.
Cooking & Serving Tips:
Learn how to cut up a whole chicken. Here's a great video to show you how: bit.ly/howtocutchicken
The technique used to cook the chicken in this recipe is called poaching. When done correctly, it makes for very flavorful, tender chicken. By adding the stock to the pan before the chicken, the pan is cooled down some which keeps the proteins from becoming tough. Be sure to use add the liquid first, get the simmer going, then reduce heat to low and make sure it never starts to boil.
Use the leftover chicken parts to make stock. Visit seriouseats.com and search for "Basic Chicken Stock Recipe" for the steps to make your own.