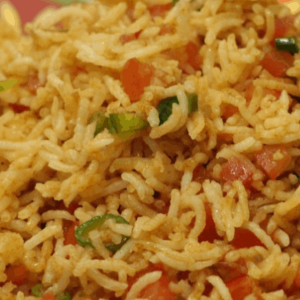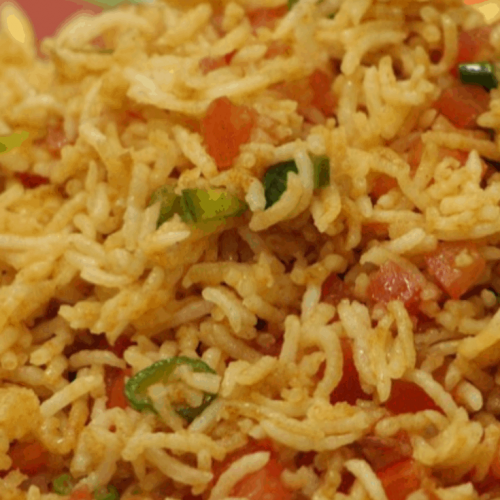 Arroz Rojo (Mexican Red Rice)
Delicious and easy recipe, using some fresh ingredients and pantry staples.
Ingredients
2

Roma tomatoes

2

tablespoons

canola oil

1

medium

onion

2

cloves

garlic

1

cup

uncooked white rice

1-3/4

cup

low-sodium chicken broth

1/4

cup

canned tomato sauce

1

jalapeño pepper

2

sprigs

fresh cilantro

Salt to taste
Instructions
Wash tomatoes and cilantro. Using a paring knife, carefully cut out tomato core.

Peel and chop onions. Finely chop garlic and jalapeño, removing seeds. Roughly chop cilantro.

Place a grater in a bowl and grate tomato using the large holes. Discard skins.

Heat oil in a large skillet over medium-high heat and cook onion until translucent, about 5 minutes. Stir in garlic and cook one minute more.

Stir rice into onion mixture and cook, stirring until rice is lightly toasted, about 3 minutes. Stir in grated tomato, broth and tomato sauce. Bring to a boil.

Mix in jalapeño pepper, cilantro and salt; reduce heat to low. Cover skillet and simmer until rice has absorbed the liquid, about 15 minutes. Do not lift the cover while the rice is cooking.

Turn off heat and let rice stand, covered, for 8 minutes. Fluff with a fork before transferring rice to a serving dish.
Notes
Smart Shopping Tips
Some tomatoes are harvested before they are ripe and ripen during transit to the store.
Tomatoes that are "vine ripened" will have the best flavor.
Tomatoes should feel firm and heavy for their size. Skin should be free of blemishes and bruises.
Cooking & Serving Tips:
Use up any remaining tomato sauce by adding it to pasta sauce, soups, pizza sauce or barbecue sauce.
Leftover tomato sauce and tomato paste can be also be frozen in recipe-ready portions. Be sure to label and mark with the date! For best quality, use within a time frame of 4-6 months.
Add some lean protein for a quick, tasty main dish. Lean ground beef, turkey, grilled chicken or even some cooked beans will round out the meal.