Baked Chicken and Vegetables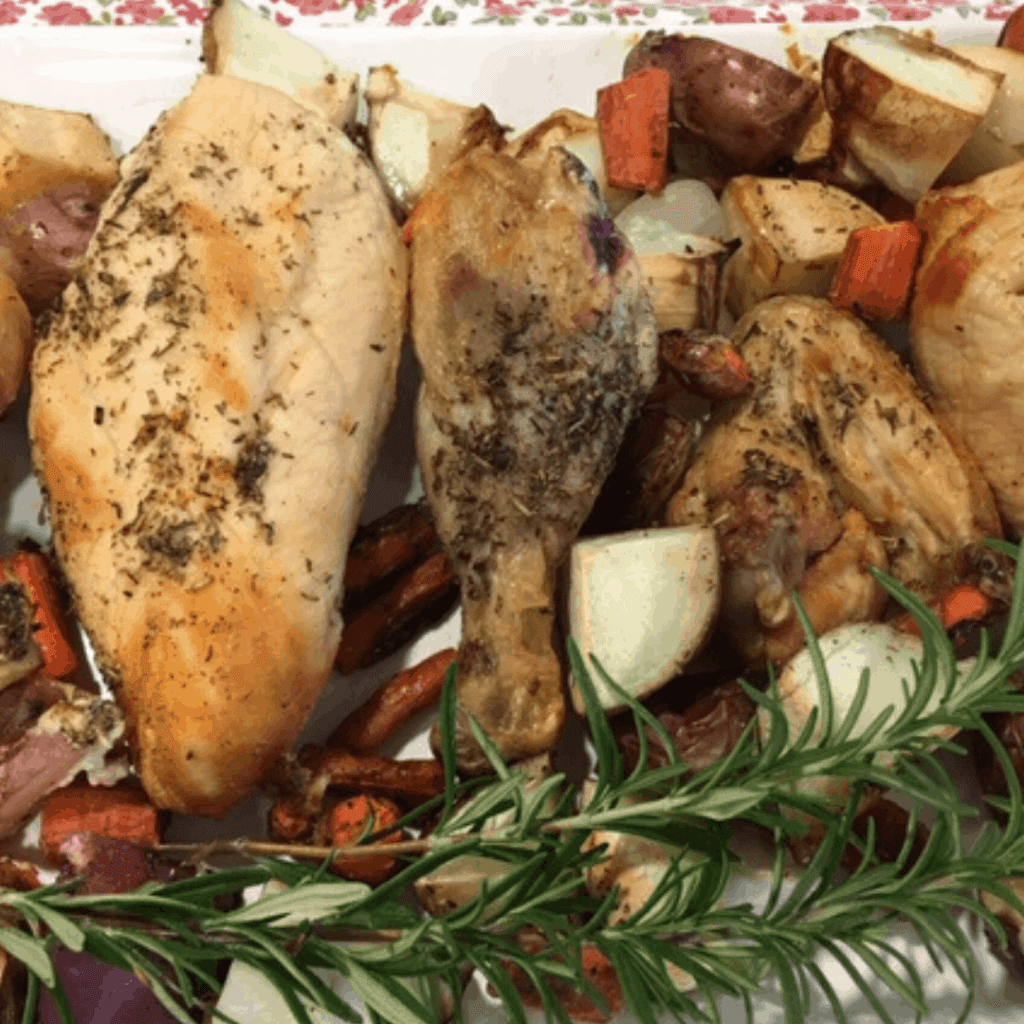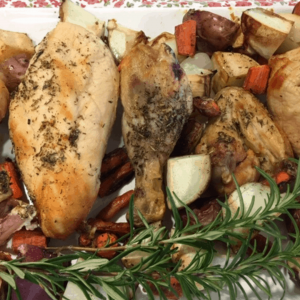 Baked Chicken and Vegetables
Baked chicken is a great source of lean protein. Paired with vegetables and seasoned with sage, rosemary and thyme, this dish is a comforting classic that your family will love.
Ingredients
4

small potatoes

6

small carrots

1

large onion

2

tablespoons

canola oil

1

whole raw chicken

1/2

cup

water

1

teaspoon

dried sage

1

teaspoon

dried thyme

1/4

teaspoon

ground black pepper

Cooking oil spray
Instructions
Preheat oven to 400 degrees.

Wash all vegetables. Cut potatoes and carrots into bite size chunks. Cut onion into quarters.

Place vegetables in a large bowl and toss with the vegetable oil to evenly coat vegetables.

Place vegetables in the bottom of a large roasting pan.

Cut whole chicken into breast, thigh, leg and wing portions. Remove skin. Place chicken pieces on top of vegetables in the roasting pan.

Mix water, sage, rosemary, thyme and pepper in a small bowl. Pour over chicken and vegetables. Spray seasoned chicken and vegetables lightly with cooking spray.

Place pan in oven and bake for about 45 minutes. Chicken is done when a meat thermometer in both a breast and thigh reads 165 degrees.
Notes
Smart Shopping Tips
Buying a whole raw chicken is typically cheaper than packaged, boneless cuts. There are several helpful videos online to teach you how to cut up a whole chicken. With a little practice you can cut up a chicken like a pro!
Save the bones and carcass of the chicken to make chicken stock at home. Save in a large plastic bag in the fridge for a few days or in the freezer for a few months.
Cooking & Serving Tips:
Instead of cutting up the chicken, you could roast it whole. Roasting whole requires about 30 extra minutes cooking time.
You could leave the skin on the chicken to make it more juicy, but remove before eating as it is high in fat.
You could also make this recipe in a slow cooker and have it ready when you get home for dinner.
Use a package of bone-in thighs instead of a whole chicken.