Baked Pears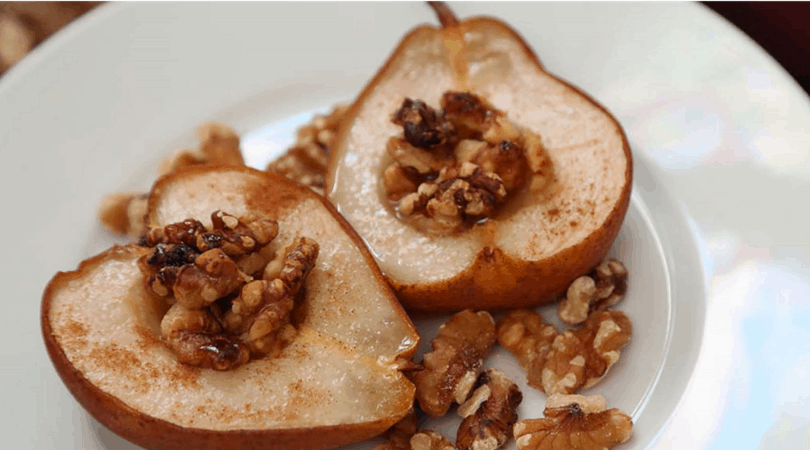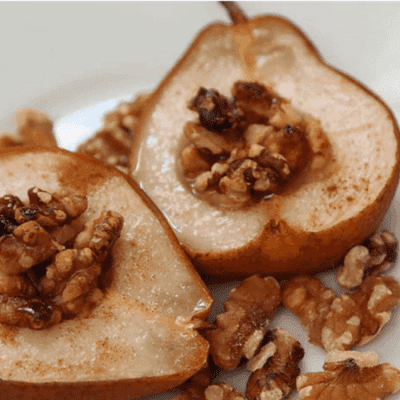 Baked Pears
Here's a lovely, simple dessert that will make your kitchen smell heavenly!
Ingredients
2

large ripe pears

1/4

teaspoon

ground cinnamon

2

teaspoons

honey

1/4

cup

crushed walnuts

Optional: yogurt or frozen yogurt
Instructions
Preheat oven to 350 degrees.

Wash fruit. Cut pears in half lengthwise. Cut out core with a melon baller or small spoon.

Place pears cut sides facing up on a baking sheet.

Sprinkle with cinnamon, top with walnuts and drizzle 1/2 teaspoon honey over each half.

Bake for 30 minutes. Cool a few minutes before serving. If desired, top with yogurt or frozen yogurt.
Notes
Smart Shopping Tips
Some pears are better for baking than others. Bosc or Anjou pears will hold their shape well. Both are also delicious raw.
Bartlett pears are juicy and delicious raw. These will turn mushy when cooked, so they are a good choice for making pear sauce or pear butter.
Pears are ripe when the flesh just below the stem "gives" a little with light pressure. Reject those that are soft all over, as these are overripe.
Cooking & Serving Tips:
Instead of cinnamon, try an apple pie spice blend or pumpkin pie spice blend.
If pears need more ripening, place them in a paper bag for a few days.
Maple syrup can be used instead of honey.