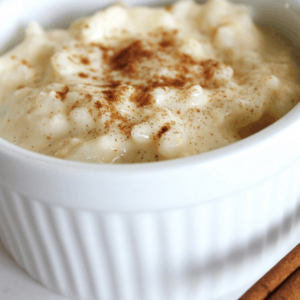 Baked Rice Pudding
Rice pudding is made by cooking rice until it is so tender that it begins to break down into a creamy pudding. Many cultures around the world have their own versions of this dish. The flavor possibilities are endless!
Ingredients
1-1/2

cups

cooked brown rice

1/4

cup

raisins

2

eggs

1-1/2

cups

low-fat milk

1/2

cup

sugar

1/2

teaspoon

nutmeg

1/2

teaspoon

cinnamon

1/2

teaspoon

vanilla
Instructions
Preheat oven to 375 degrees.

Mix rice and raisins together, then place in a small greased casserole dish.

In a small bowl, whisk together eggs, milk, sugar, nutmeg, cinnamon and vanilla.

Pour egg and milk mixture over rice, then bake uncovered for 45 minutes or until a knife inserted in the center comes out clean. Can be served warm or cold.
Notes
Smart Shopping Tips
Short or medium grain rice is typically used for rice pudding, as it gives a creamier texture. This recipe uses brown rice which is a more nutritious whole grain.
Any type of dried fruit may be used in place of raisins.
Cooking & Serving Tips:
Rice pudding is a great way to use up leftover rice. If you don't have leftover rice, you can cook the rice for this recipe beforehand. Rice pudding works best with rice that is very tender, so when cooking the rice for this recipe, use 1/2 cup extra water and cook until all of the water is absorbed.
This recipe could also be made on the stove. Simply combine all of the ingredients in a sauce pan and cook over medium-low heat, stirring occasionally for about 20 minutes or until the mixture is thick and creamy.