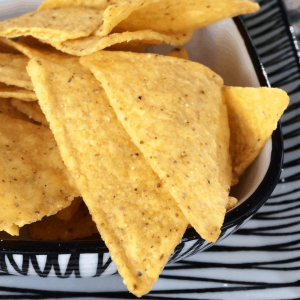 Baked Tortilla Chips
Making tortilla chips from scratch will help you stretch your budget and reduce your sodium intake. This recipe provides a healthier way to make tortilla chips.
Ingredients
6

corn tortillas

2

tablespoons

olive oil

salt

to taste
Instructions
Preheat oven to 350 degrees.

Cut each corn tortilla into 6 wedges.

Lightly brush both sides of each tortilla with oil, or toss pieces in a large bowl with oil to coat both sides.

Place on baking sheet and bake in the oven until the tortilla pieces are crisp but not overly browned. This will take about 12 minutes.
Notes
Smart Shopping Tips
When buying tortillas, it is important to look for ones that are whole grain. Corn tortillas are whole grain. White flour tortillas are not whole grain.
When purchasing olive oil at the store, select a bottle that is at the back of the shelf. The bottles at the front of shelf are exposed to light, which can degrade the oil.
Store your newly purchased oil in a dark and cool place. If you would like, you can refrigerate it. Olive oil will become solid when refrigerated, so bring it to room temperature before using, about 30 minutes.
Cooking & Serving Tips:
For a lower sodium option, try adding garlic salt, chili powder, red pepper or black pepper to the tortilla crisps.
Sprinkle fat free or reduced fat cheddar cheese on the tortilla crisps to make nachos.
Choose whole-wheat tortillas for another whole grain option.