Banana Nut Oatmeal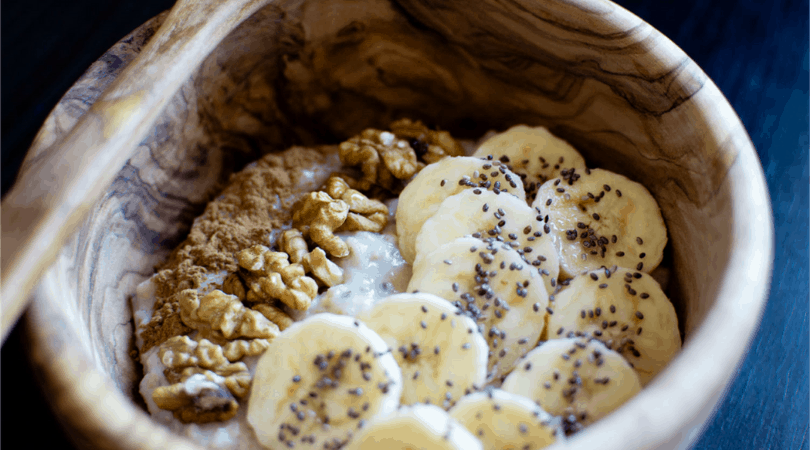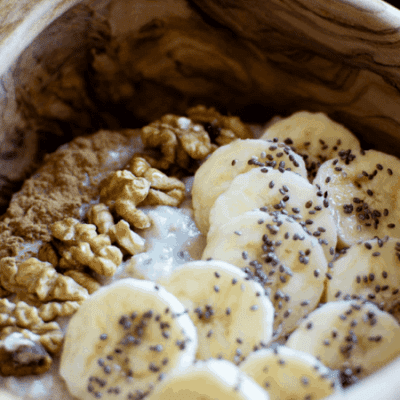 Banana Nut Oatmeal
Oatmeal is a quick, easy, nutritious breakfast that is loaded with fiber to keep you feeling full until lunchtime. You can add all sorts of spices, nuts and fruits to create your own favorite oatmeal.
Ingredients
1/3

cup

old fashioned oats

1/2

cup

boiling water

1

small

ripe banana

2

tablespoons

nuts, chopped

1/4

teaspoon

cinnamon

1

teaspoon

honey
Instructions
Add oats and boiling water to a small bowl and stir.

Slice up the banana and add it to the bowl. Stir in the nuts, cinnamon and honey.

Let the oats cook for 3 to 5 minutes until desired consistency is reached. Serve warm.
Notes
Smart Shopping Tips
Buying oats in bulk is much cheaper than individual flavored packets. Make your own instant oatmeal packs by portioning oatmeal in little baggies.
It's okay to use quick cooking oats instead of old fashioned oats. Quick cooking oats are rolled very thin and cut into a smaller piece so absorb water more quickly, which creates oatmeal with a soft texture in a few minutes. Old fashioned oats are thicker and absorb water more slowly, creating a chewier oatmeal. Steel cut oats are whole oats cut into pieces but not rolled. They are best for slow-cooked oatmeal.
Cooking & Serving Tips:
Use any type of nut you would like such as peanuts, walnuts, almonds or pecans.
Add dried fruit, fresh fruit, dark chocolate chips, chia seeds, pumpkin seeds or flax seeds.
To make this dish warmer in flavor, add a dash of nutmeg, ginger and vanilla.