Basic Pesto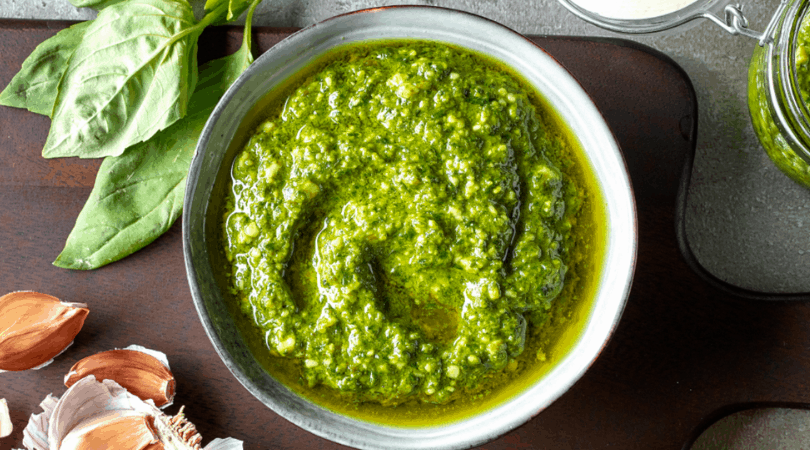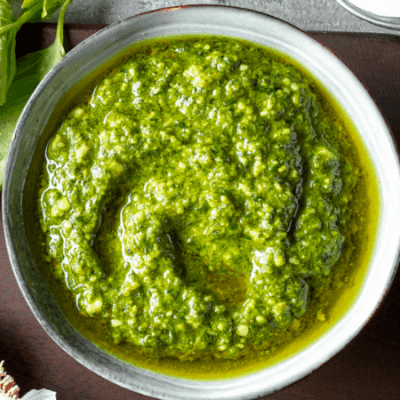 Basic Pesto
Fresh pesto can be enjoyed in many ways in addition to topping pasta. Use as a sandwich spread, pizza sauce, topping for grilled meat and chicken or stirred into salad dressing.
Ingredients
2

cups

fresh basil leaves, packed

2

cloves

garlic

1/4

cup

walnuts

1/2

teaspoon

salt

1/4

teaspoon

ground black pepper

1/2

cup

olive oil

1/2

cup

grated Parmesan cheese

1

teaspoon

lemon juice, optional
Instructions
Wash basil and pat dry. Coarsely chop garlic.

Place basil leaves, garlic, nuts, salt and pepper in a food processor with steel chopping blade in place. Pulse until coarsely chopped.

With the motor running, slowly add olive oil and process until oil is fully combined.

Add cheese and pulse a few times until combined. Add lemon juice if using.
Notes
Smart Shopping Tips
To save money and reduce waste, try buying nuts in bulk so you buy only what you need. Nuts can be frozen if you don't use them all at once.  Almonds can be frozen for up to a year, but pine nuts should be used within 6 months of freezing for best quality.
Cooking & Serving Tips:
Pine nuts or pecans can be used in place of walnuts.
Any kind of hard cheese can be used, such as Parmigiano Regiano Parmesan.
Other green herbs can be added. Try some parsley or cilantro.
For a variation, try adding some shallots or roasted red peppers.
If you want to freeze pesto, don't add the cheese. After thawing, mix in the cheese well. Use frozen pesto within three months.