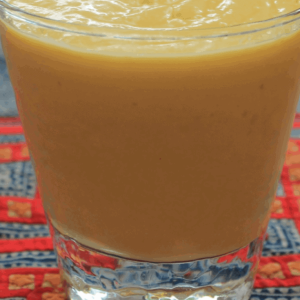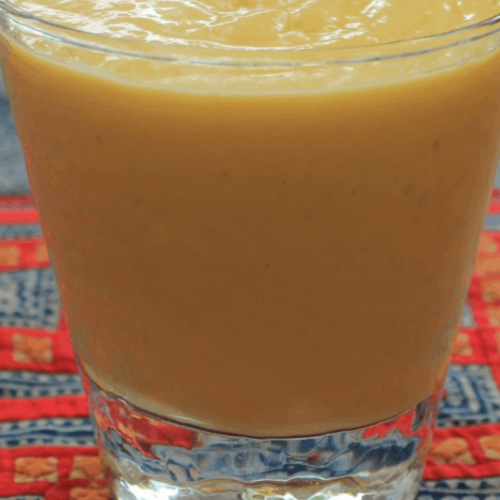 Batido Smoothie
This quick, refreshing smoothie makes a satisfying part of breakfast or any time of day! Add in your favorite fruits for a variety of flavors.
Ingredients
2

cups

papaya chunks

(frozen or fresh)

2

ripe

bananas

1

cup

plain low-fat yogurt

1

cup

ice cubes
Instructions
Place all ingredients in a blender.

Put the lid on tightly. Turn the blender to a medium setting and blend until the ice is chopped and the mixture is smooth, about 1 minute.

Serve right away or cover and refrigerated up to 4 hours.
Notes
Smart Shopping Tips
When buying fresh papaya, look for those that are partly or completely yellow in color.
Fruit such as berries and papaya can be bought frozen and stored for later use.
Look for bananas that have brown spots on the peel. These will be very ripe and make the smoothie taste sweeter.
Cooking & Serving Tips:
Instead of yogurt, use 1 cup of low-fat milk or a milk substitute such as soy, rice, almond or coconut.
Strawberries, blueberries or raspberries can be used in addition to or instead of papaya.
Ice may not be necessary if using frozen fruit. Experiment to find the thickness you prefer.
If smoothie is too thick, add small amounts of water, juice or milk.
To use fresh papaya, cut fruit in half lengthwise and scoop out the black seeds with a spoon. Use a sharp knife to cut skin away from fruit or scoop out with a spoon. Chop fruit to desired size.