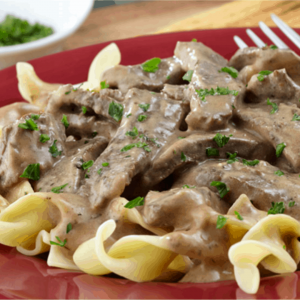 Beef Stroganoff
Hearty, filling and flavorful, beef stroganoff is a dish that brings comfort to your soul. The dish originated in Russia but has migrated all over the world—from China to Brazil. It became wildly popular in the United States in the 1950s during the ultimate comfort food era.
Ingredients
6

cups

cooked whole wheat noodles

(cooked without salt or fat)

1

large

onion

1

pound

mushrooms

1

pound

lean, top round beef

2

teaspoons

vegetable oil

1/4

teaspoon

salt

1/4

teaspoon

ground black pepper

1/4

teaspoon

nutmeg

1/2

teaspoon

dried basil

1/4

cup

beef broth

1

cup

plain, non-fat yogurt
Instructions
Finely chop onion. Wipe dirt from mushrooms with a damp paper towel and slice.

Cut beef into 1-inch cubes.

Heat 1 teaspoon oil in nonstick skillet. Sauté onion for 2 minutes.

Add beef and sauté for additional 5 minutes. Turn to brown evenly. Remove from pan and keep hot.

Add remaining oil to pan and sauté mushrooms.

Add beef and onions to pan with salt, pepper, nutmeg and basil.

Reduce the heat and stir in beef broth. Stir in yogurt; warm but do not boil. Spoon the mixture over the noodles.
Notes
Smart Shopping Tips:
Beef stroganoff is typically made with a more expensive tender cut of beef such as tenderloin or top sirloin. However, it can be prepared with ground beef instead for a quicker, budget-friendly version.
Cooking & Serving Tips:
If thickening is desired, stir 2 teaspoons cornstarch into broth before adding. Calories are the same as flour, but cornstarch has double thickening power.
Be sure to stir well after adding and let it cook 2-3 minutes.
To get perfectly even-sized pieces of meat, first cut the beef tenderloin into 3-inch pieces. Then cut each piece against the grain into slices about 3 inches square and 1 inch thick. Lay the slices flat and cut the squares into 1-inch cubes.
Consider adding lemon juice and garnish with chopped parsley to perk up the flavor.