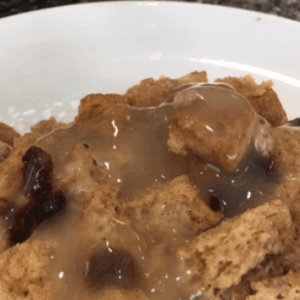 Bread Pudding with Vanilla Sauce
Bread pudding is a classic dessert made healthier with whole wheat bread. Vanilla sauce gives a sweet crowning touch to this stovetop version. 
Ingredients
1

tablespoon

butter

5

slices

whole wheat bread

1/3

cup

sugar

dash salt

2

cups

skim milk

1

teaspoon

vanilla extract

1/4

cup

raisins

1

teaspoon

cinnamon

(and/or nutmeg)

1

tablespoon

cornstarch

1/3

cup

sugar

1

cup

water

1

tablespoon

butter

1 1/2

teaspoons

vanilla extract
Instructions
Melt butter in medium size skillet.

Tear bread into pieces and spread on bottom of skillet.

Beat eggs and stir in sugar, salt, warmed and vanilla. Sprinkle raisins over bread and pour egg mixture over all.

Cover and cook over very low heat for 20 minutes.

Test for doneness by inserting a knife in the center. Pudding is done when the knife comes out clean.

Allow to cool in the skillet.

Prepare vanilla sauce while pudding cools.

Combine cornstarch and sugar in a small saucepan. Gradually add water, stirring well.

Cook until thick and clear, stirring constantly.

Add butter and vanilla, stirring until margarine melts.

Drizzle over individual servings of bread pudding.
Notes
Smart Shopping Tips
Any stale bread can be used to make bread pudding. Look for discounted day-old bread in the store.
When shopping for whole wheat bread, read the labels and make sure the first ingredient is whole wheat flour.
Cooking & Serving Tips:
Any kind of dried fruit can be used, such as cranberries or apricots.
Chopped nuts like pecans can be added for protein and crunch.
Serve with a scoop of frozen yogurt.
If digesting milk is a problem, milk alternatives can be used. There are several choices including soy milk, rice milk and almond milk. These are fortified with calcium and vitamin D, making them nutritionally equivalent to milk.
Refrigerate leftover bread pudding and vanilla sauce within two hours.