Broccoli Baked Potato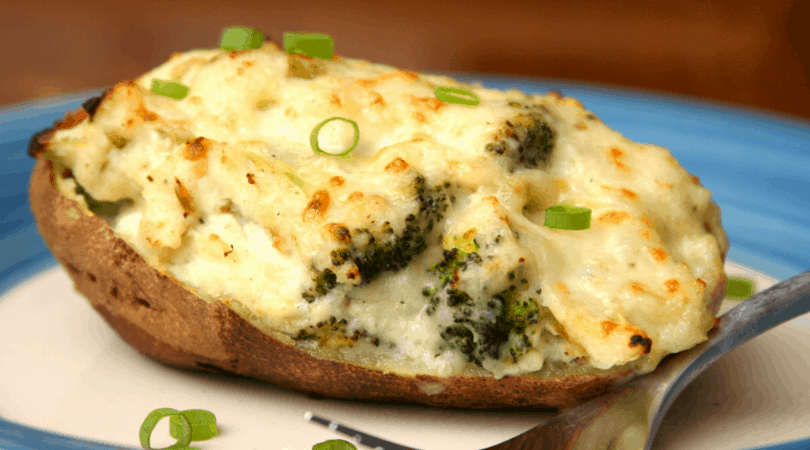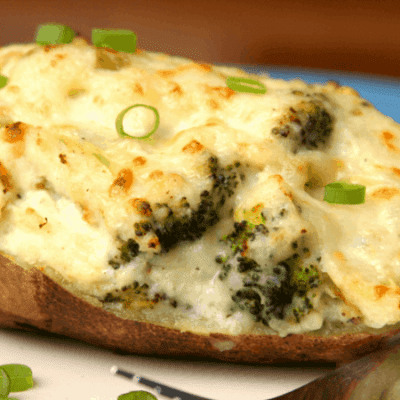 Broccoli Baked Potato
Try this healthier take on the classic baked potato that is lighter on butter and loaded with fresh broccoli. This dish is perfect as a side to your favorite grilled meat or delicious and filling on its own.
Ingredients
2

large

potatoes

1

small

head broccoli

1

tablespoon

butter

2

tablespoons

milk

1/4

cup

shredded cheddar cheese

1/2

teaspoon

pepper
Instructions
Preheat oven to 350 degrees. Scrub potatoes and prick with a fork several times. Place directly on the rack in the oven and cook for 60 minutes or until the potatoes are soft.

While potatoes are cooking, prepare broccoli. Wash and cut off florets, and chop into small pieces. Peel bottom part of stem, then chop the whole stalk into small pieces. Steam broccoli 2-4 minutes or until crisp tender on the stove or in the microwave.

When potatoes are done, remove from oven and cut in half lengthwise. Scoop the inside out of the potatoes leaving a 1/4-1/2 inch shell. Place scooped out potato in a bowl and add butter, milk, pepper and half of the cheese. Mash together until well combined. Stir in broccoli, then scoop the mixture back into the potato skins. Sprinkle with the remaining cheese, then place on a baking sheet and heat in oven for 5-10 minutes or until cheese is melted.
Notes
Smart Shopping Tips
Frozen broccoli may be used instead of fresh. Cook before using.
Choose potatoes without sprouts or green color under the skin.
Russet potatoes are typically used for mashing as they tend to be more fluffy.
Cooking & Serving Tips:
Try adding other vegetables like spinach, squash or mushrooms.
Plain yogurt is a healthy way to add a tangy flavor and creamy texture to baked or mashed potatoes. Try replacing the milk and butter in this recipe with a 1/4 cup of plain non-fat yogurt.
Use up any leftover broccoli the next day in an omelet, pizza topping, wrap or quesadilla.
Don't refrigerate raw potatoes. Store in a cool, dark place but not with onions—they give off a gas that will cause potatoes to sprout.