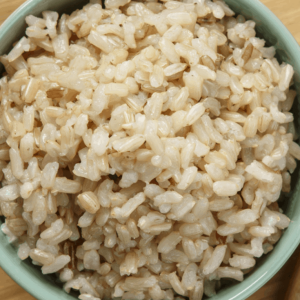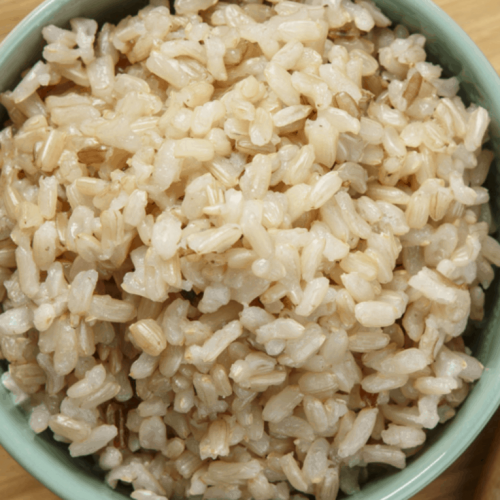 Brown Rice Pilaf
Pilaf is a flavorful rice dish in which the rice is lightly toasted with other flavors such as onion before simmering with water. You can easily add your favorite vegetables and seasonings to this simple pilaf recipe.
Ingredients
2

tablespoons

butter

1

medium

onion

3

cloves

garlic

1 1/2

cups

brown rice

3

cups

water

1/4

teaspoon

salt

1/4

teaspoon

pepper
Instructions
Dice onion. Peel and finely chop garlic.

In a large saucepan over medium heat, melt butter. Add onion and cook, stirring, until soft, about 5-6 minutes. Add garlic and saute about 30 seconds more.

Add rice to pan and cook, stirring often, until rice is evenly coated in butter lightly toasted, about 3-5 minutes.

Add salt and pepper; stir to combine.

Add water. Bring to a boil, then lower heat to a simmer. Cover and cook until rice is cooked and all water has been absorbed, about 30 minutes.
Notes
Smart Shopping Tips:
This recipe is a less expensive alternative to boxed rice mixes. Try copying the flavors of your family's favorite mix for a cheaper, home-made version.
Cooking & Serving Tips:
Replace half of the water with a low-sodium broth like chicken or vegetable for even more flavor. If using broth, reduce the amount of salt added in recipe.
Other vegetables like carrots, celery, bell pepper or mushrooms could be added to this pilaf. Chop vegetables into small pieces and add to the pot at the beginning with the onion. Continue recipe as directed.
You may also add toasted and chopped nuts such as almonds, pecans or walnuts and sprinkle on top of rice pilaf before serving.
Cooked rice can be frozen for up to six months.