Carrot Top Pesto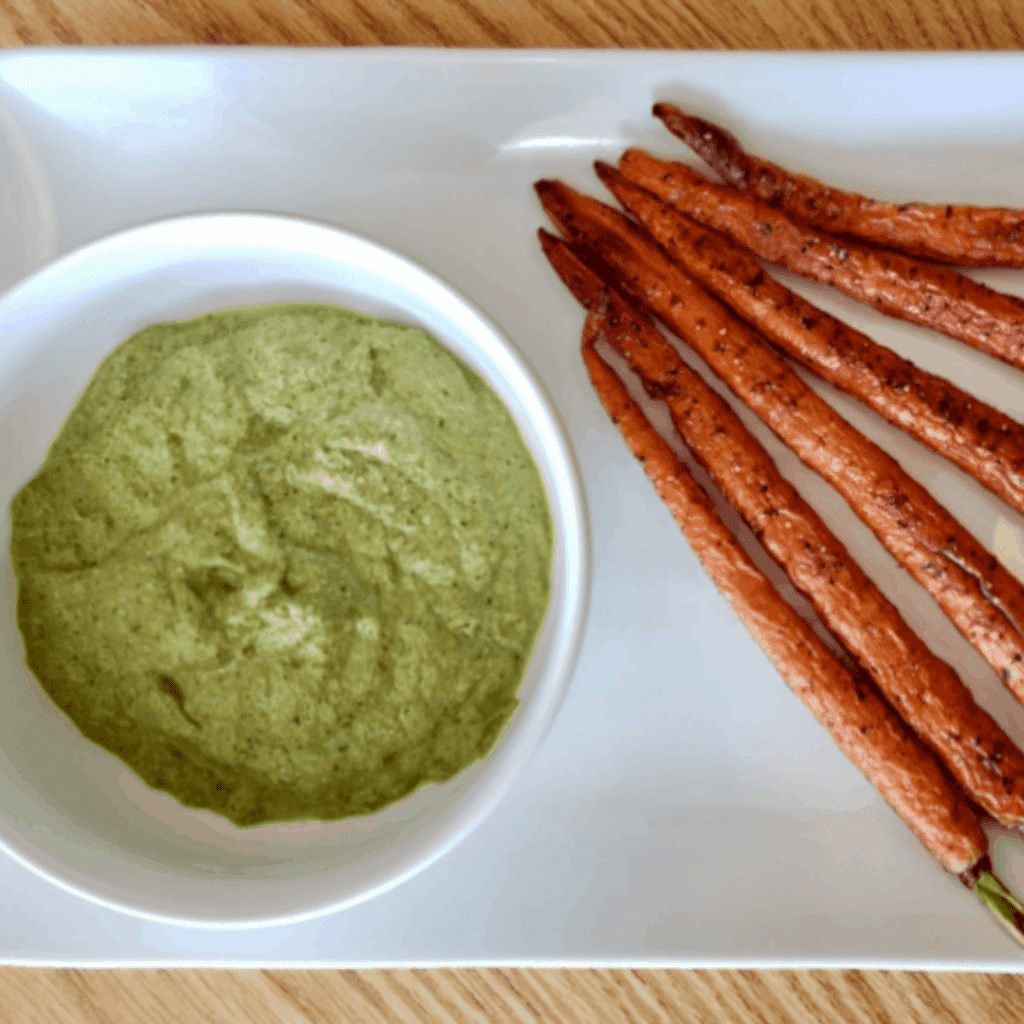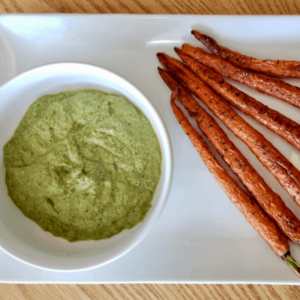 Carrot Top Pesto
A great way to use every part of the carrot. Carrot top pesto is made with refreshing mint, garlic, lemon, and olive oil for a bright and fresh dip that is delicious on sandwiches, grilled vegetables, crackers, and more!
Ingredients
1

clove

garlic

2

tablespoons

lemon juice

1

teaspoon

fresh lemon zest

1 large

or two

smaller bunches carrot tops

1/4

cup

mint leaves

4

green onions

1/2

cup

walnuts

3

tablespoons

olive oil

Salt and pepper to taste
Instructions
Prepare the carrot tops by removing the thick stem pieces by cutting about 2 inches of the stem above the carrot.

Bring a pot of water to a boil on the stove and prepare a large bowl by filling with ice cubes and cold water.

Once the water is boiling, add the carrot tops to the pot and stir occasionally to blanch the carrots tops by cooking for about 3 minutes or until the tops are bright green.

Immediately remove the pot from the stove, and transfer the carrot tops into the ice water bowl.

Wring out any excess liquid from the carrot tops and set out to dry until ready.

Add the garlic, lemon juice, lemon zest, carrot tops, mint leaves, green onions, walnuts, and olive oil to a food processor or blender and blend until a chunky paste forms. Add a little more olive oil or water if needed to reach desired consistency.

Store pesto in the refrigerator in a covered food storage container for several days.
Notes
Smart Shopping Tips
Select fresh carrots that feel plump and firm to the touch, have consistent coloring throughout, and have leaves that are bright and non-wilted.
Remove green, leafy tops attached to carrots by cutting off green tops before storing in refrigerator. Wrap the tops in a damp paper towel to prevent premature wilting.
Cooking & Serving Tips:
Prepare to roast the carrot roots by preheating the oven to 400 degrees. Line a large baking sheet with parchment paper or aluminum oil for easy cleanup. Coat each carrot in olive oil and arrange them in a single layer on the baking sheet. Sprinkle with salt and paper to taste. Roast the carrots in the oven until they are lightly caramelized and tender, or for about 25-35 minutes. Be sure to turn the carrots halfway through cooking time to get a nice even color.
Substitute regular orange carrots with the multicolored carrots to add color to your plate.