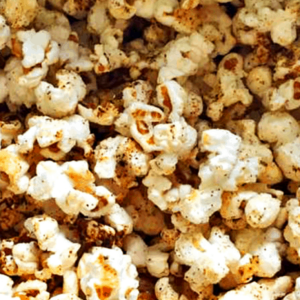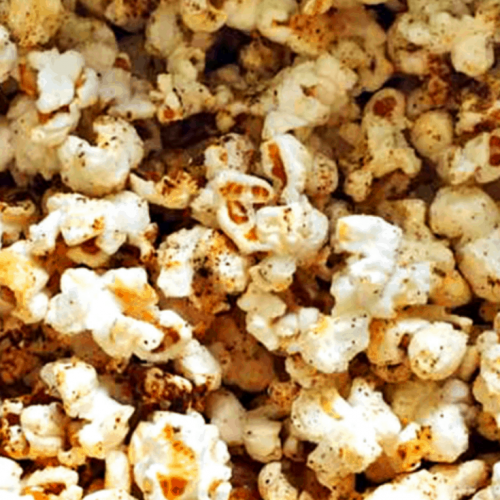 Chili Popcorn
Popcorn can be a healthful snack as long as it is not drowning in butter and salt. This recipe uses little butter and adds chili and garlic powder for flavor.
Ingredients
1

tablespoon

oil

1/4

cup

popcorn kernels

1

tablespoon

butter

1

teaspoon

chili powder

dash garlic powder
Instructions
Coat the bottom of a large saucepan with oil. Add popcorn kernels and shake pan to evenly distribute kernels and coat with oil. The pan should be big enough that the kernels can spread out in a single layer.

Turn heat to medium and slide the pan back and forth to move the kernels around. After about 3-5 minutes, the first kernel will pop. At this point, put the lid on the pan.

Continue to slide the pan back and forth while the kernels are popping. When popping slows down or stops, remove pan from heat. Move popped corn to a large bowl.

Melt butter in the microwave or a small saucepan on the stove. Drizzle over popcorn while shaking the bowl to evenly coat. Repeat with chili powder and garlic powder.
Notes
Smart Shopping Tips
Microwave popcorn packs are expensive, high in fat and salt and often contain unwanted food additives. Popping corn at home on the stove is significantly cheaper and allows you to control the ingredients.
Cooking & Serving Tips:
Sprinkle with lime juice for chili-lime flavored popcorn.
Experiment with other flavor combinations like salt and pepper, Parmesan and garlic, Cajun, etc.
Try something sweet by sprinkling with sugar and cinnamon, or drizzling with melted chocolate. Try adding nuts, pretzel bits or a few candies.
Watch your portions! It is easy to overeat popcorn. Serve one cup portions in separate bowls rather than serving from one large bowl.