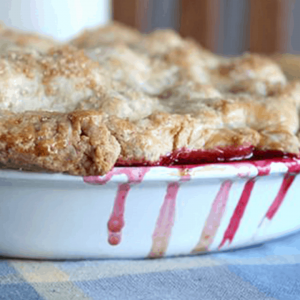 Deep Dish Apple Cranberry Pie
Cranberries and apples are a perfect sweet-tart combination for this delicious homemade dessert. Using one crust reduces the fat but the sweet goodness of fruit will please everyone!
Ingredients
4

large, tart apples

2 1/2

cups

fresh cranberries

3/4

cup

sugar

1/4

cup

all-purpose flour

1/2

teaspoon

ground cinnamon

1/4

teaspoon

ground nutmeg

1/8

teaspoon

ground allspice

dash

ground cloves or ginger

1

prepared pie crust
Instructions
Preheat oven to 375 degrees.

Wash fruit. Sort berries and discard any shriveled or discolored berries. Peel, core and thinly slice apples.

Combine fruit, sugar, flour and spices in a medium bowl.

Place mixture in a 10-inch deep dish pie pan.

Place crust on top of the fruit mixture. Cut three or four slits in the crust to allow steam to escape.

Bake at 375 degrees for about an hour. Serve warm.
Notes
Smart Shopping Tips
Whenever cooking with apples, choose firm, tart apples such as Granny Smith, Jonagold or Braeburn. These apples are often a little larger than eating apples and they maintain their texture when cooked.
Cranberries can be purchased in season and frozen for later use. Store in plastic bags for up to a year.
Berries should be sorted and washed before use. Discard shriveled, mushy or discolored berries.
Cooking & Serving Tips:
One teaspoon of apple pie spice blend can be used instead of the spices listed in the recipe.
Serve with a scoop of frozen yogurt.
Sprinkle top of crust with a little cinnamon and sugar before baking.