Easy Granola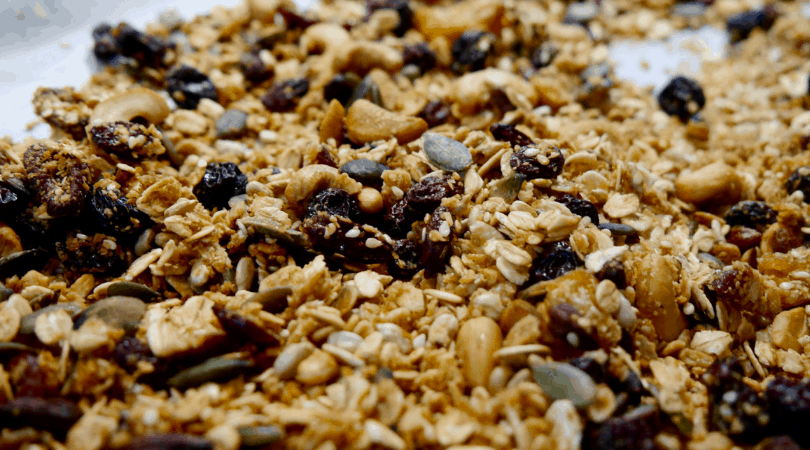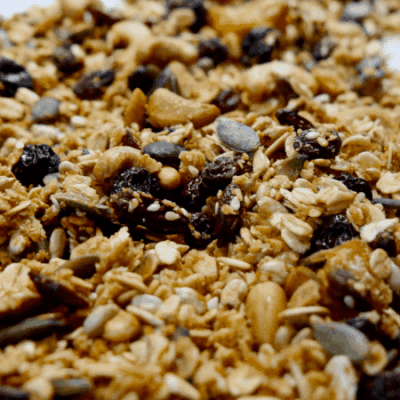 Easy Granola
Granola is a sweet and crunchy treat made with whole grain oats and any combination of additions, such as raisins, cranberries and nuts. Enjoy it alone or as a crunchy addition to yogurt and fresh fruit.
Ingredients
3

cups

rolled oats

1/2

cup

shredded coconut

1

cup

chopped pecans

1/4

cup

brown sugar, packed

1-1/2

teaspoons

ground cinnamon

1/4

cup

canola oil

1

teaspoon

vanilla extract

2/3

cup

raisins
Instructions
Preheat oven to 350 degrees.

In a large bowl, toss together oats, coconut, pecans, brown sugar and cinnamon.

In a small bowl, combine vanilla and oil. Drizzle oil and vanilla over oat mixture and stir to evenly coat.

Spread oat mixture onto a baking pan covered with foil or parchment paper. Bake in a 350-degree oven for 25-30 minutes or until golden brown, stirring every 10 minutes.

Stir in raisins and let cool completely. Store in an airtight container.
Notes
Smart Shopping Tips
Homemade granola is significantly less expensive than store-bought varieties, and you can control the amount of sugar and oil and leave out preservatives.
This recipe is flexible, and you can use any combination of assorted nuts, dried fruit or other additions that your family may love.
Cooking & Serving Tips:
Mix and match different dried fruits and nuts in this recipe to suit your taste. Try walnuts, peanuts or almonds instead of pecans. You may also mix in dried cranberries, cherries or apricots instead of raisins.
For additional flavor and added nutrients, toss in seeds such as pumpkin, sesame, cracked flax or sunflower.
Make a yogurt parfait by layering plain yogurt, fresh fruit, and your homemade granola in a small cup. Your kids will love it for a healthy, sweet after -school snack!
This recipe can be made on the stove. Toast oat mixture in a large skillet over low heat, stirring constantly until golden brown.