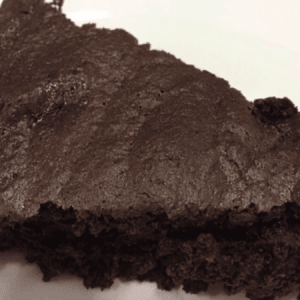 Flourless Chocolate Cake
No one will believe that the secret to this chocolatey, gooey cake is dried plums! Treat your family to this dessert that tastes like a big brownie.
Ingredients
1

cup

(about 14) dried plums

1

cup

boiling water, plus more for water bath

1

cup

unsweetened cocoas powder

1/2

teaspoon

baking soda

1/4

teaspoon

salt

4

large

eggs

1/2

cup

sugar

1

tablespoon

vanilla extract

3

ounces

dark chocolate, melted

(see tips below)
Instructions
Preheat oven to 350 degrees.

Chop dried plums. Place in a small bowl and add 1 cup boiling water. Allow to stand 30 minutes.

Coat a 9-inch round pan with cooking oil spray and line with a large sheet of parchment paper so that it hangs over the sides of pan for easy removal of cake. Place in a large roasting pan.

Sift cocoa and combine with baking soda and salt with a whisk in a large bowl.

Puree dried plums with the soaking water in a blender until smooth. Add eggs, sugar and vanilla and puree until smooth. Drizzle melted chocolate through feed tube while running until fully combined.

Pour mixture into bowl with cocoa powder and combine well.

Spread batter into the prepared pan. Carefully pour boiling water into roasting pan to about an inch around cake pan.

Place in oven and bake until puffed and starting to crack, about 38-40 minutes. It may still look "jiggly." Remove from water bath and cool. Place in refrigerator until firm, about 2 hours.
Notes
Smart Shopping Tips:
Be sure to use unsweetened cocoa powder in this recipe, not the powder used to make hot cocoa. Cocoa powder for baking is often found with flour and other baking products.
Cooking & Serving Tips:
To melt chocolate, place chopped pieces in a small bowl and rest inside a pot with a few inches of simmering water. Or, use the microwave method.  Place chopped pieces in a microwave safe bowl and microwave for 30 seconds.  Stir and continue to microwave and stir 30 seconds until melted.
A 9-inch spring-form pan coated with cooking oil spray may be used for this recipe. Double-wrap the outside with foil before placing in water bath to prevent leaks.
It's important to chill this cake before serving, as it will firm up as it cools. Cover and store in the refrigerator.