French Toast with Fresh Fruit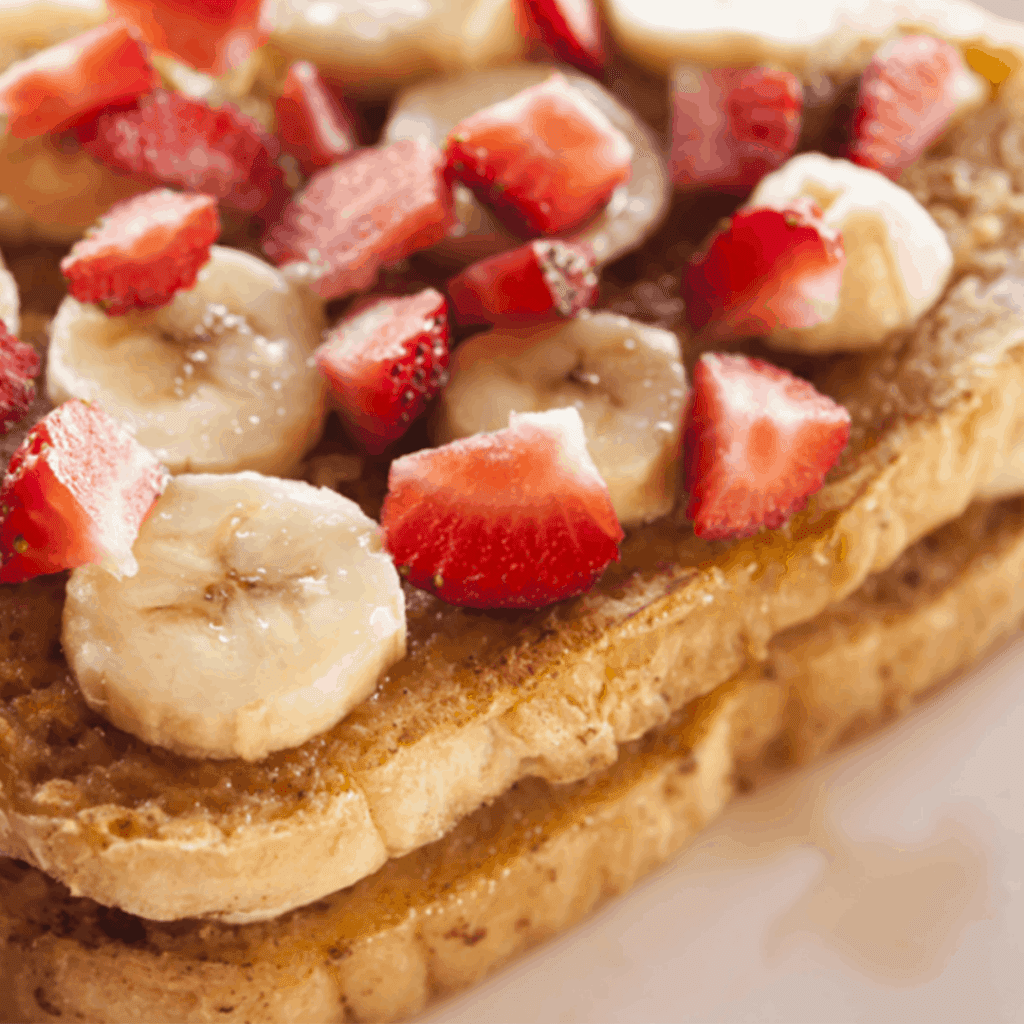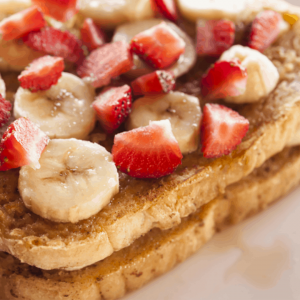 French Toast with Fresh Fruit
French toast, also called "eggy bread" in many countries, is pan fried bread that has been soaked in eggs. It can be used in savory dishes, but it is most popular in the US as a sweet breakfast treat.
Ingredients
2

eggs

2/3

cup

low-fat milk

1/4

teaspoon

cinnamon

1/4

teaspoon

nutmeg

1

teaspoon

vanilla

pinch

salt

6

slices

thick-cut whole wheat bread

Cooking oil spray

3

cups

mixed fresh fruit, such as berries, bananas, peaches, etc.
Instructions
In a small, shallow pan or dish, whisk together eggs, milk, cinnamon, nutmeg, vanilla and salt.

Heat a skillet over medium-high heat. While pan is heating, dunk first slice of bread into egg mixture, making sure to soak each side.

Once the pan is hot, spray generously with cooking oil spray. Add soaked bread to the skillet. It should begin to sizzle immediately. Cook on each side for 1-2 minutes, until the bread is browned and cooked through.

While first slice is cooking, add second slice to egg mixture. Remove first slice when finished, spray pan with more oil, then put second slice on the pan. Repeat until all bread slices are cooked.

To serve, top 2 slices with 1 cup of fresh fruit.
Notes
Smart Shopping Tips
Stale bread is actually preferred for this recipe because it soaks up more of the egg mixture and doesn't fall apart as easily.
You can purchase discounted day-old bread from the store, or use up old bread at home for this recipe.
Read the ingredients on bread labels to make sure you are buying 100% whole wheat. The first ingredient should be "whole wheat flour."
Cooking & Serving Tips:
Use whole wheat bread instead of white, and top with a variety of fresh fruit to make this breakfast treat a healthier one.
Make sure your skillet is hot enough before cooking. A few drops of water dropped on the skillet should "dance" across the surface. Proper heat ensures good browning.
For extra sweetness, lightly drizzle with maple syrup and sprinkle with powdered sugar.