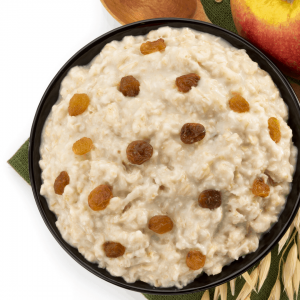 Fruity Homemade Oatmeal
A steaming bowl of oatmeal is the perfect way to start off your day to provide lasting strength and energy. Oats gain part of their distinctive flavor from the roasting process they undergo after being harvested and cleaned. Although oats are then hulled, this process does not strip away their bran and germ, allowing them to retain a concentrated source of fiber and other nutrients.
Ingredients
3/4

cup

old-fashioned oats

1-1/2

cups

water

2

tablespoons

raisins

1

medium

apple

1

teaspoon

cinnamon
Instructions
Wash apple. Use a vegetable peeler to remove the skin from the apple.

Cut the core out of the apple. Chop into small pieces.

Pour the water into a saucepan, bring to a boil over medium heat.

Stir in oatmeal, raisins, chopped apple and cinnamon.

Turn heat to low. Cook 5 minutes, stirring often.
Notes
Smart Shopping Tips
Buy small quantities of oats at one time, as this grain has a slightly higher fat content than other grains and goes rancid more quickly.
Oats are available prepackaged or in bulk.
If you purchase prepared oatmeal products such as instant oatmeal, look at the ingredients list to ensure that the product does not contain any added salt, sugar or other additives.
Cooking & Serving Tips:
Add your favorite nuts and fruits to your oatmeal.
Use oat flour or whole oats the next time you make bread or muffins.
Sprinkle oat bran on your favorite hot or cold cereal.
Use oats instead of bread or cracker crumbs in meat loaf.