Garbanzo-Stuffed Mini Peppers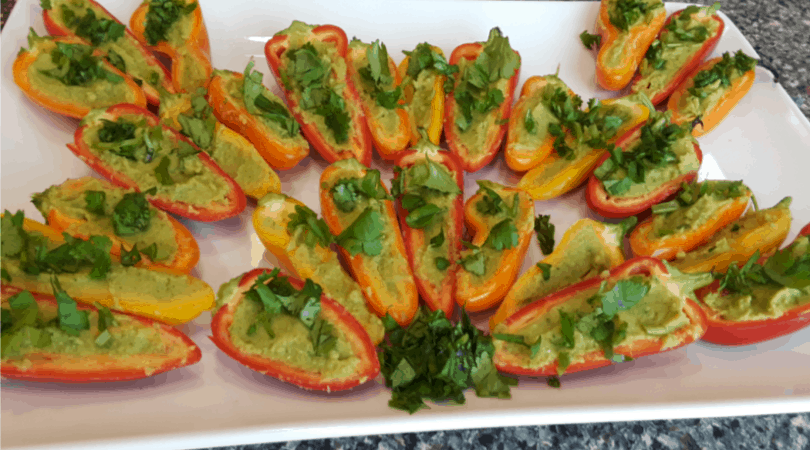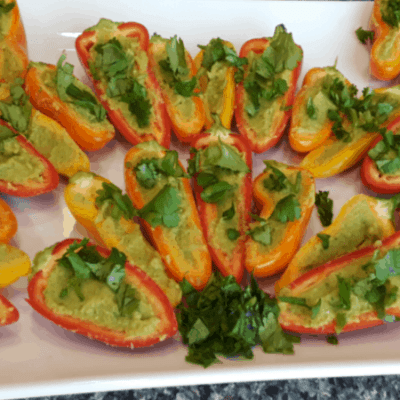 Garbanzo Stuffed Mini-Peppers
These garbanzo-stuffed mini peppers make for a delicious and easy snack or appetizer. They are also a great side dish for parties and pot-lucks.
Ingredients
1

can (15-ounce)

garbanzo beans

1/4

cup

fresh cilantro

(plus more for garnish)

3

tablespoons

water

3

tablespoons

cider vinegar

1/2

teaspoon

ground cumin

1/4

teaspoon

salt

16

miniature

sweet peppers
Instructions
Wipe off the top of the garbanzo bean can. Drain and rinse beans.

Wash peppers and cilantro leaves. Pat dry.

In a food processor, place cumin powder, garbanzo beans, cilantro, water, vinegar, and salt.

Pulse the mixture in the food processor for 30 seconds to one minute, or until blended.

Slice peppers in half lengthwise. Remove seeds and membranes.

Spoon the mixture into the pepper halves.

Top with cilantro to garnish, and refrigerate until serving.
Notes
Smart Shopping Tips
You can keep leftover cilantro fresh longer by wrapping a damp paper towel around the bottom of the stems and placing in a plastic bag in the refrigerator.
Cooking & Serving Tips:
If no-salt added or reduced sodium garbanzo beans are not available, rinsing them under running water will reduce the total amount of sodium by about half.
You can replace the cilantro with fresh basil or Italian or curly parsley.
You can bring out more of the flavor of the ground cumin, through "blooming." This is done by mixing the powder with a liquid (water, vinegar, etc.) until it forms a paste, then heat it over medium heat on an oiled pan until the liquid has evaporated. Make sure to remove the powder from the heat quickly afterwards to prevent burning.