Garden Sloppy Joes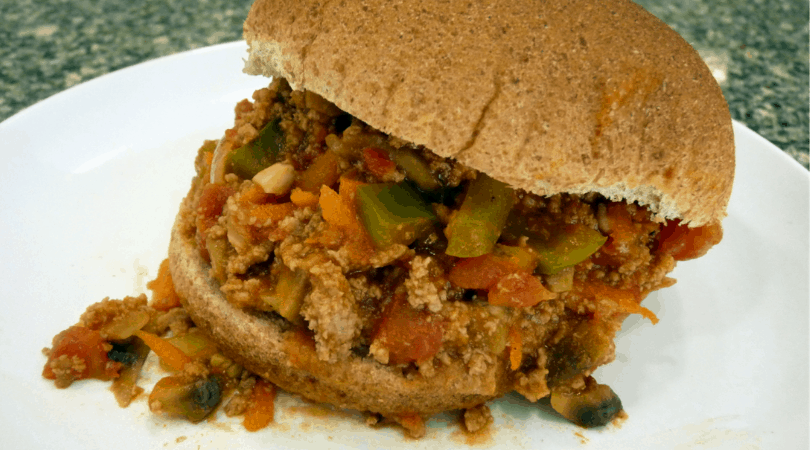 Garden Sloppy Joes
This classic sandwich is given a healthy upgrade by adding fresh vegetables to the mix. Kids and adults alike will enjoy getting messy with this tasty, nutrition-packed meal.
Ingredients
1

medium

yellow onion

1

large

carrot

1

green

pepper

1

cup

mushrooms

1

pound

ground turkey

(or lean beef)

1

can (8-ounce)

tomato sauce

1

can (14.5-ounce)

petite diced tomatoes

(or crushed tomatoes)

1/4

cup

barbecue sauce

6

whole wheat burger buns
Instructions
Wipe off tops of cans. Peel and dice onion. Wash and grate carrot. Remove core and seeds from bell pepper and chop. Gently scrub mushrooms with a clean towel or paper towel to remove any dirt. Roughly chop mushrooms into small pieces.

Cook ground turkey or beef in a large sauté pan until browned and cooked through. Drain excess fat; remove ground meat from pan and set aside.

In the same pan, sauté onion, carrot, pepper and mushrooms over medium-high heat for 3-5 minutes, stirring frequently. Add ground meat back to the pan and stir to combine.

Add tomato sauce, diced tomatoes and barbecue sauce. Heat until bubbling, then reduce heat to a simmer. Cover and cook for 10 minutes. Uncover and cook for 3-5 minutes more, stirring frequently, until sauce is thick. Serve open-face on toasted whole wheat buns.
Notes
Smart Shopping Tips
Try replacing half of the meat in the recipe with beans such as black beans or a whole grain such as brown rice. This will save you money, reduce the fat and increase the fiber.
Any color of bell pepper may be used, but green is usually the cheapest.
Compare labels of bottled barbecue sauce and look for one with less sugar.
Cooking & Serving Tips:
Store leftovers in the fridge for 3-5 days, or freeze for up to 4 months.
Adding vegetables to this family favorite is a great way to incorporate more vegetables into your meals. It's also a great way to use up leftover vegetables or produce that is about to spoil.
Try topping your sloppy joe with homemade coleslaw for extra crunch.