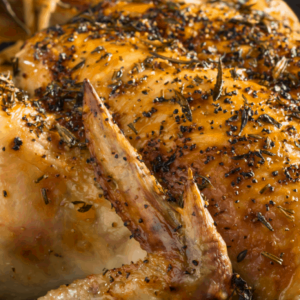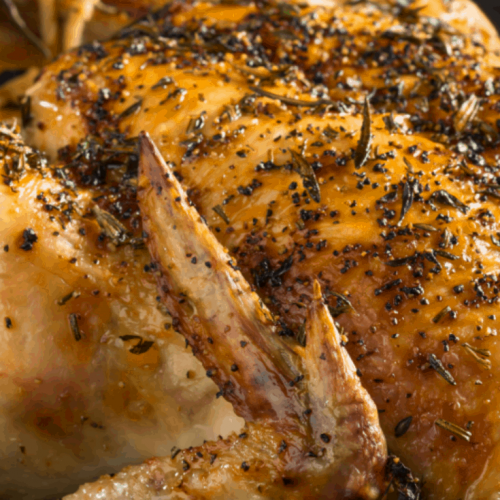 Garlic Herb Roasted Chicken
Roasting chicken fills your kitchen with a heavenly aroma! Tuck some carrots or small red potatoes around the sides for a fuss-free side dish.
Ingredients
3

cloves

garlic

2

teaspoons

chopped fresh thyme

2

teaspoons

chopped fresh rosemary

2

teaspoons

chopped fresh parsley

1

teaspoon

chopped fresh sage

1

teaspoon

salt

3/4

teaspoon

ground black pepper

1

(4-5 pound)

whole fryer chicken
Instructions
Preheat oven to 450 degrees.

Peel and finely chop garlic cloves. Place in a small bowl and mix with thyme, rosemary, parsley, sage, salt and pepper. Set aside.

Remove any giblets from chicken and pat dry. Starting at the pointed tip of the breast, carefully slide fingers under the skin to loosen it from the breast. Continue to slide fingers down to loosen skin from thighs and legs, without removing skin.

Rub herb mixture evenly under the skin, pulling skin back over breast. Twist wings behind the back. Place chicken breast side up in a roasting pan.

Roast at 450 degrees for 30 minutes, then reduce oven temperature to 350 degrees.  Roast another 45 minutes or until meat thermometer placed in thickest part of thigh and breast reads 165 degrees.

Let chicken stand, covered with foil, for at least 10 minutes before slicing.
Notes
Smart Shopping Tips
Purchase whole chickens labeled, "fryer." Roasting chickens are larger, older and may be tough.
Place the chicken in an extra plastic bag in the store. Usually these are provided in the meat department, but if you can't find one, get one from the produce department.  This helps to prevent leaks and possible bacterial contamination of raw or ready-to-eat food.
Cooking & Serving Tips:
If fresh herbs are not available, you can use dry. Use a half to one third of the amount of fresh.
Any herbs can be used. If you prefer, place whole sprigs inside the chicken instead of rubbing under the skin.
All large cuts of meat benefit from "resting" before slicing. This allows the juices to redistribute so the meat is juicy.  Allow for 10 to 20 minutes for the best, tastiest results.  It's hard to wait but well worth it!