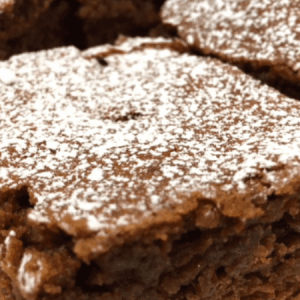 Gingerbread Cake
Ginger has a complex, spicy flavor that works in both sweet and savory foods. This warm, spiced dessert is a low-fat treat that will please the whole family!
Ingredients
1 1/2

cups

flour

1

teaspoon

ground ginger

1

teaspoon

ground cinnamon

1/2

teaspoon

baking soda

1/2

cup

sugar

1/2

cup

plain non-fat yogurt or buttermilk

1/4

cup

canola oil

1/2

cup

molasses

1

egg

cooking spray

powdered sugar for garnish
Instructions
Preheat oven to 350 degrees. Spray an 8 x 8-inch cake pan with cooking oil spray.

Combine flour, ginger, cinnamon and baking soda in a medium bowl.

In a large bowl, stir together the sugar, buttermilk or yogurt, oil, molasses and egg.

Add flour mixture to wet ingredients and stir well.

Pour into prepared pan and bake for 25 minutes.

Cool completely and cut into 9 squares. Sprinkle powdered sugar on top, if desired.
Notes
Smart Shopping Tips
Got spices in your cabinet that you haven't touched in years? After about a year, spices begin to lose their flavor and should be replaced.
Buying spices in bulk is significantly cheaper and allows you to buy just what you need, particularly if you are going to be using a large amount. Bulk spices are usually found at health food stores, specialty stores and larger grocery stores.
Cooking & Serving Tips:
Fold raisins and candied ginger into the batter just before pouring into cake pan for extra flavor and texture. Soak raisins in warm water for 30 minutes to soften before adding to batter.
Serve with a scoop of frozen yogurt.
You can make some icing using a cup of powdered sugar mixed with 2 tablespoons orange juice.