Grilled Vegetable Packets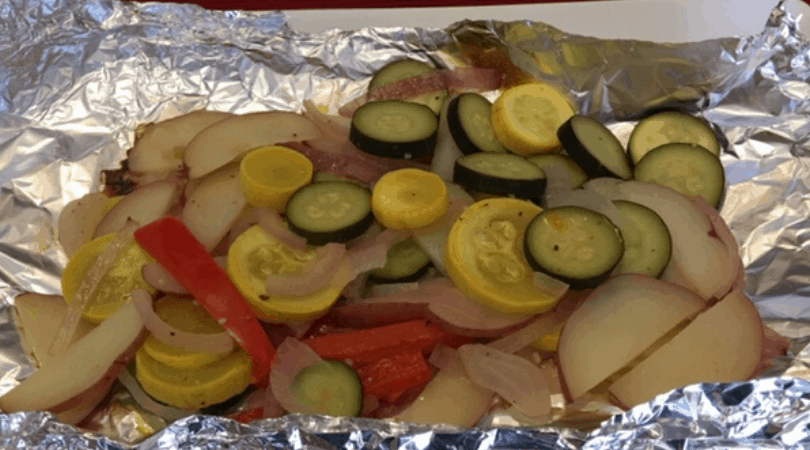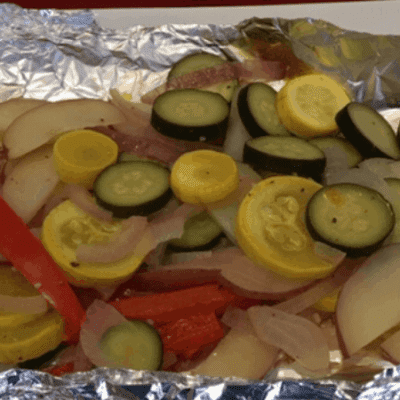 Grilled Vegetable Packets
Remember to bring vegetables for your next grilling party. These tasty, colorful packets will round out your menu and cleanup is a snap! Have packets prepared beforehand so they're ready to go when you start your picnic.
Ingredients
2

small

zucchini

2

small

yellow squash

4

small

red potatoes

1/2

red

onion

1/2

red

bell pepper

1/4

cup

reduced fat Italian salad dressing

Salt and pepper to taste
Instructions
Heat grill to medium heat or 350 degrees.

Wash and slice all vegetables.

Toss in a large bowl. Add dressing and toss until all vegetables are coated.

Tear 2 large square pieces of aluminum foil and place half of the vegetable mixture on each piece.

Place an equal piece of foil over the top of the vegetable mixture and fold bottom piece with top sheet to form a packet.

Place on heated grill for 20-30 minutes or until the potatoes are tender. If you don't have a grill, bake packets in the oven at 400 degrees for 20-30 minutes or until tender.

Before you open the packets, poke holes in the foil with a fork, allowing steam to escape.

Carefully open packets and empty onto serving plate or serve from foil packets.
Notes
Smart Shopping Tips
Summer squash has a thin skin and is easily damaged, so handle with care. Store unwashed in a plastic bag in the refrigerator.
Choose squash that is firm and without damaged skin. Avoid those that look shriveled.
Cooking & Serving Tips:
After mixing vegetables, make individual portion-size packets so serving is easy.
Any combination of vegetables can be used. Try adding mushrooms, green beans, cauliflower or broccoli.
Instead of salad dressing, add a drizzle of olive oil with fresh or dried herbs. Add a clove of crushed garlic.
If you can only find a bag of red potatoes, use the rest to make oven "fries." Cut into chunks, toss with vegetable oil and add a little Italian seasoning. Roast in the oven at 450 degrees for about a half hour, stirring halfway through.