Healthy Chicken Alfredo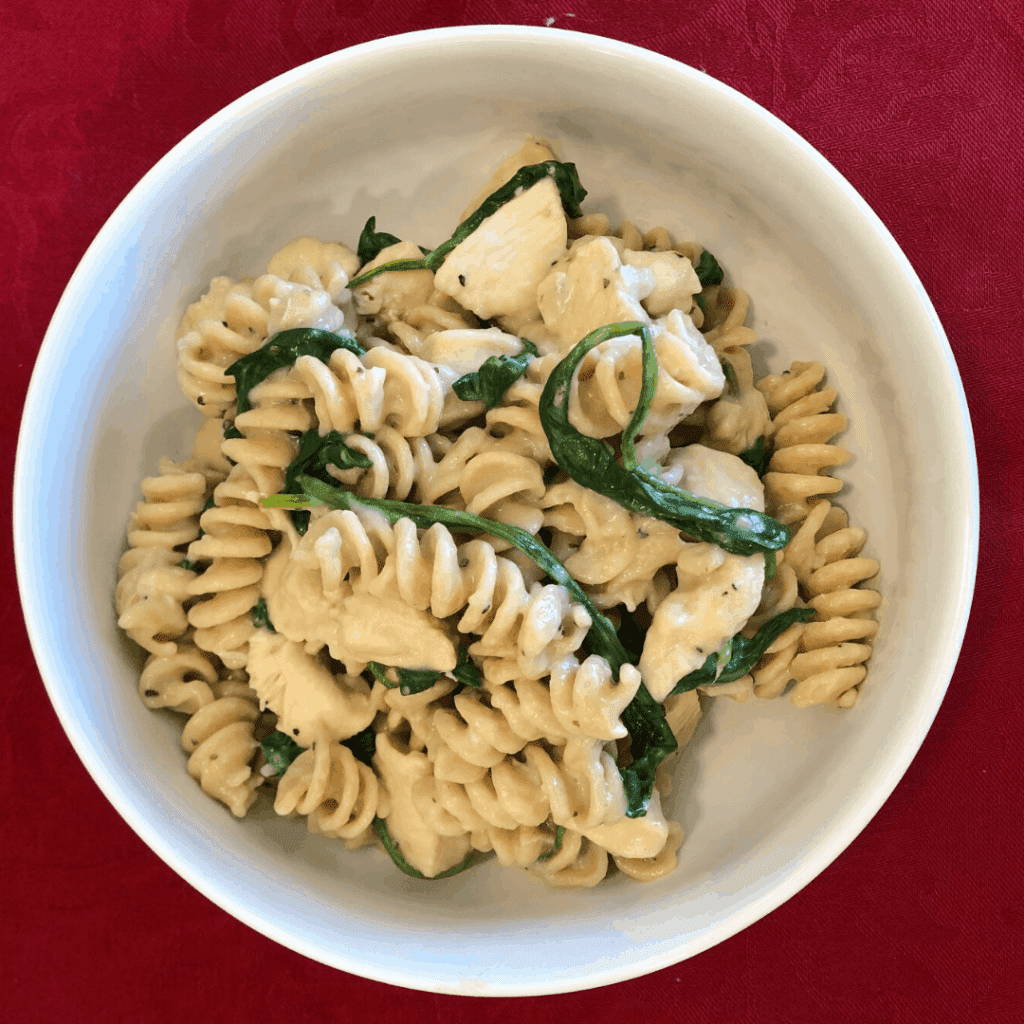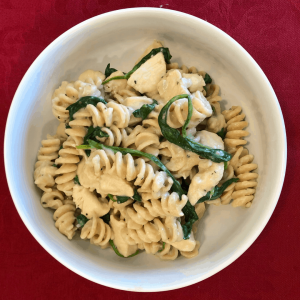 Healthy Chicken Alfredo
This lightened-up version of chicken alfredo makes a quick, satisfying dinner. It's also a great way to add another serving of vegetables!
Ingredients
1

tablespoon

olive oil

2

large

bone-less, skinless chicken breasts

1/2

teaspoon

salt, divided

1/2

teaspoon

ground black pepper

3

cloves

garlic

2

tablespoons

flour

1

cup

low-sodium chicken broth

1

cup

skim milk

3

cups

baby spinach

4

cups

whole grain penne pasta

1/4

cup

shredded Parmesan cheese
Instructions
Cook pasta according to package directions. Peel and finely chop garlic. Chop chicken into bite-size cubes.

Heat the olive oil in a large skillet and add chicken. Season with 1/4 teaspoon salt and pepper and cook 5-8 minutes, or until no longer pink.

Remove the chicken from the pan and set aside.

In the same pan, add the garlic and sauté for one minute over medium heat.

Sprinkle the flour over the garlic and slowly add in the chicken stock. Stir constantly with a whisk to avoid lumps.

Add in the skim milk and remaining 1/4 teaspoon salt, stir, and allow to reach a simmer to thicken sauce.

Once the sauce is thickened, add in the spinach and stir until wilted.

Remove from heat and add in the cooked penne, chicken and Parmesan cheese. Stir to coat.
Notes
Smart Shopping Tips
Chicken breasts can be purchased fresh or frozen. If you find a good price on fresh chicken breasts or tenders, freeze them yourself in recipe-ready portions.
To freeze, use freezer storage bags and squeeze out as much air as possible. Be sure to label and date the package and use within 9 months for best quality. Place in the refrigerator to thaw the night before you want to cook it.
Cooking & Serving Tips:
Use any kind of whole wheat pasta. Whole wheat pasta has more fiber and nutrients than regular pasta.
Chopped, cooked rotisserie chicken will save even more time.
Chopped fresh broccoli can also be used. Add it to the boiling pasta water in the last few minutes of cooking. 
Stretch servings by adding more cooked vegetables, such as mushrooms.