Hearty Navy Bean Soup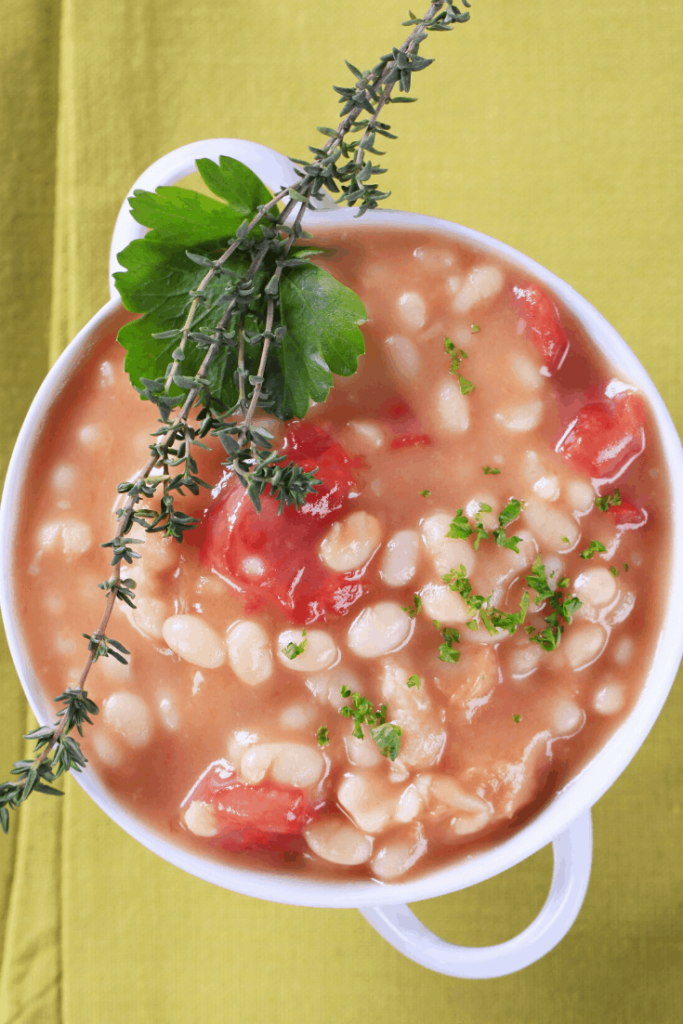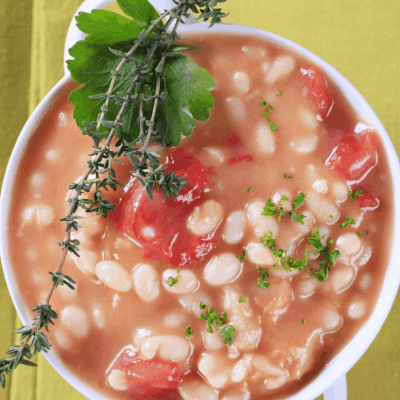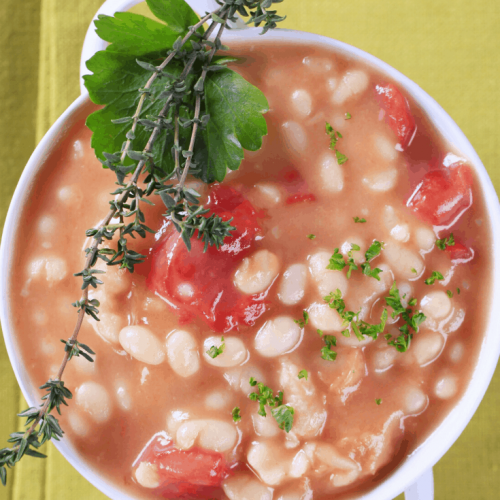 Hearty Navy Bean Soup
Beans are a hearty, healthy alternative to meat. They are full of fiber and other essential nutrients. This comforting bean soup is affordable to make. Enjoy it with your family!
Ingredients
3

cups

dried navy beans

(1-1/2 pounds)

1

can

(14.5 ounce) diced tomatoes, undrained

1

large

onion

1

meaty ham hock or 1 cup diced cooked ham

2

cups

chicken broth

2 1/2

cups

water

Salt and pepper to taste

Fresh parsley
Instructions
Rinse and sort beans to remove any debris. Place in a large pot and add enough cold water to cover beans by an inch. Soak overnight.

Drain and rinse beans, discarding liquid. Place in a large pot with a tight fitting lid. Peel and chop onion. Wash parsley. Wipe off top of tomato can. Add the tomatoes with juice, chopped onion, ham hock (or ham), broth, water, salt and pepper.

Bring to a boil. Reduce heat; cover and simmer until beans are tender, about 1 1/2 hours.

Add more water if necessary. Remove ham hock and let stand until cool enough to handle. Remove meat from bone; discard bone. Cut meat into bit-size pieces; set aside. Return ham to soup and heat through.

Chop fresh parsley and garnish.
Notes
Smart Shopping Tips
Select dry beans that are smooth and unwrinkled.  Be sure to sort through them to remove any debris.
Cooked, canned beans can be substituted for dry.  One cup of dried beans is equal to 2 to 1 1/2 cups canned.
Cooking and Serving Tips:
For a thicker soup, cool slightly then puree beans in a food processor or blender and return to pan.
Add any vegetables on hand.  Sliced carrots, celery and mushrooms would make tasty additions and increase the number of portions.
Freeze leftover soup in serving-size portions for a quick meal on a busy night.  Be sure to label with the date and use within six months for best quality.
Cooked beans are an excellent addition to any salad.  Try mashing them with a can of tuna and a little lemon juice and Dijon mustard for a tasty tuna salad.