Hoppin' John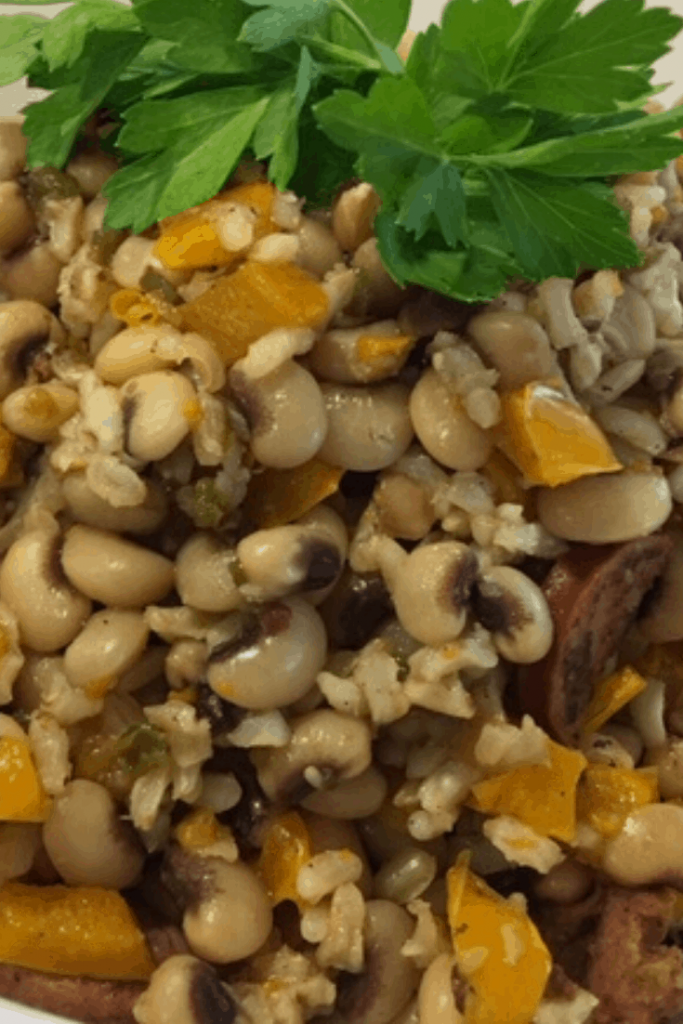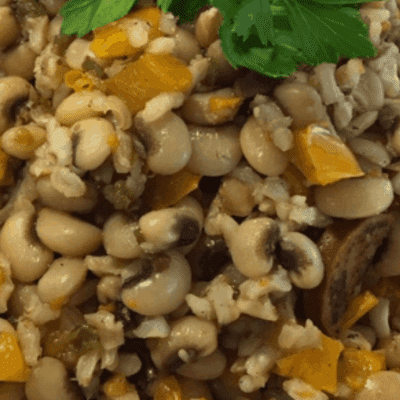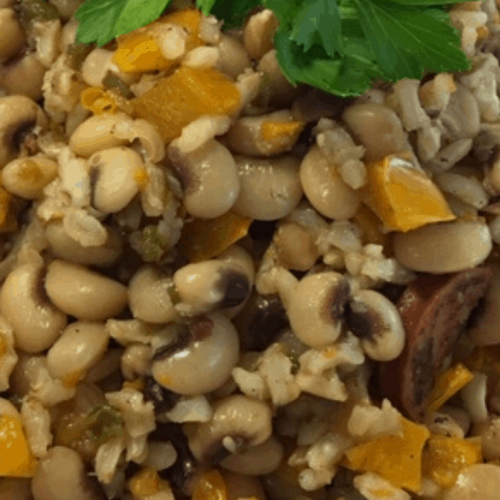 Hoppin' John
Enjoy this savory, Southern black-eyed pea and rice dish that is traditionally served on New Year's Day to ensure good luck and prosperity in the coming year!
Ingredients
1/2

medium red or orange bell pepper

1

medium jalapeno pepper

1/2

cup

instant brown rice

3

ounces fully cooked smoked turkey sausage

1

teaspoon

canola oil

1

bag

(12-ounces) frozen black-eyed peas

1/2

cup

water

1/4

teaspoon

salt
Instructions
Chop bell pepper. Remove seeds and finely chop jalapeno pepper.

Prepare rice using package directions.

Slice sausage into 1/4 inch pieces.

In a medium sized nonstick skillet, heat oil over medium-high heat. Cook sausage for 3 minutes or until richly browned, stirring frequently.

Stir in the bell pepper and jalapeno pepper and cook for 1 minute.

Add black-eyed peas, water and salt. Cook for 30 minutes or until the mixture is slightly thickened but some of the liquid remains. Remove from heat.

Stir in rice. Transfer to a serving bowl.
Notes
Smart Shopping Tips
Turkey sausage is a lean sausage produced from ground turkey that can be seasoned, smoked or grilled. It is sold in a variety of forms including bratwurst, salami and bologna.
Turkey sausage may be stored in the refrigerator for up to 3 weeks or frozen for up to 3 months.
Black-eyed peas are available dried, canned and frozen.
Cooking & Serving Tips:
When cooking with dried black-eyed peas, you may soak them overnight or use a quick soak method: beans are boiled for 2 minutes, then removed from heat and cooled for 1 hour before cooking.
Use any color of bell peppers. Chopped peppers can be frozen for later use in recipes.
Black-eyed peas pair well with cooked greens and ham, tossed into a salad, soup, casserole, or stew, or pureed and seasoned for a dip.