Leek, Potato and Spinach Stew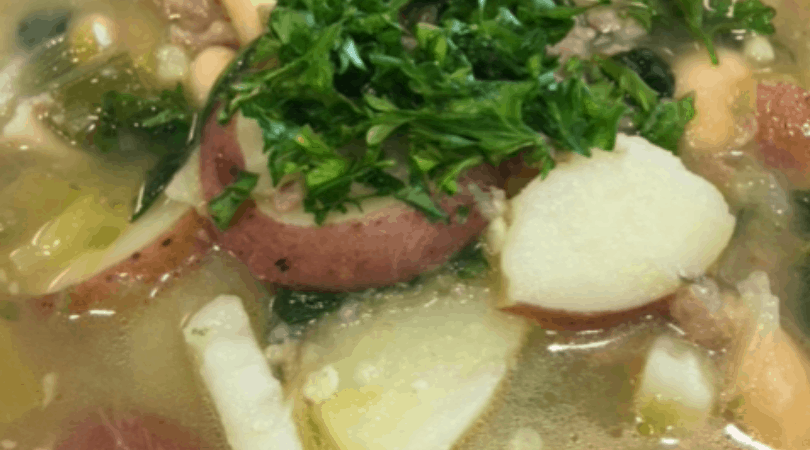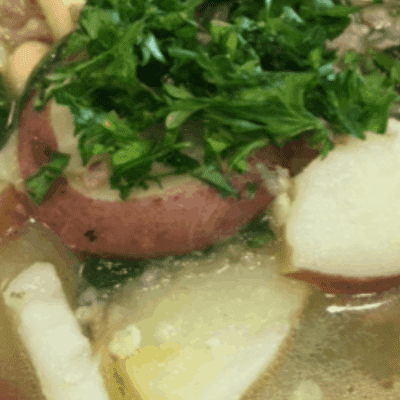 Leek, Potato and Spinach Stew
For this light, earthy stew, use vegetables of late spring and early summer. You can vary what's in the stew according to what is readily available.
Ingredients
1

tablespoon

olive oil

2

links

hot Italian turkey sausage

2

leeks

4

cloves

garlic

1/8

teaspoon

salt

1

cup

chicken stock

1

pound

new or small potatoes

4

cups

reduced-sodium chicken broth

8

cups

spinach

1

bunch

scallions

1

can (15-ounce)

cannellini beans

1/2

cup

fresh herbs, such and chives and/or parsley
Instructions
Clean all vegetables and pat dry. Drain and rinse beans.

Heat oil in a large pot over medium heat.

Chop leeks, using only with and light green parts.

Remove casing from sausage. Add to pan with leeks and cook, stirring occasionally and crumbling the sausage with a wooden spoon until the leeks are tender, about 5 minutes.

Finely chop garlic and add to pan with salt. Stir until fragrant, about 20 seconds.

Add stock, cover and bring to a boil over high heat.

Uncover and cook until the stock is almost evaporated, about 4 minutes.

Slice potatoes into 1/4-inch slices, then add potatoes and broth; cover and bring to a boil.

Stem and chop spinach, and thinly slice scallions. Stir in spinach and scallions and cook, covered, until the potatoes are tender, about 10 minutes.

Remove from heat and stir in beans. Cover and let stand for 1 minute. Divide among six soup bowls and sprinkle each portion with fresh herbs.
Notes
Smart Shopping Tips
Frozen vegetables work equally as well as fresh in this recipe. Make use of frozen spinach or any other veggie you might like to add. If using frozen spinach, thaw and squeeze out excess water.
When buying canned beans or vegetables, try to find ones that are labelled "no salt added". It's much easier to control your sodium intake by adding your own as needed.
Cooking & Serving Tips:
Serve this stew with a crusty whole wheat baguette or crackers for another textural element.
Freeze leftovers for later use. Use containers made for freezing and label with the contents and date. Use within 6 months for best quality.
Sweet Italian turkey sausage can be used instead of hot if less spice is desired.
A pinch of your favorite dry herbs can be added with the broth.
Freeze unused sausage links for up to 6 months.  Be sure to label package with the contents and date.