Oven Fried Okra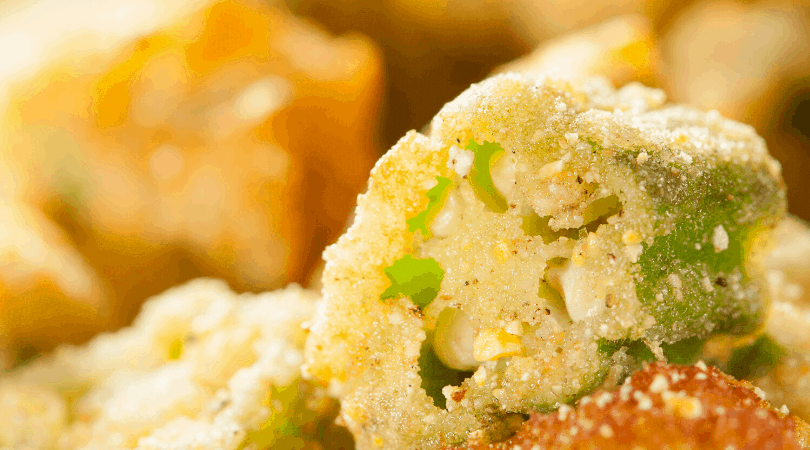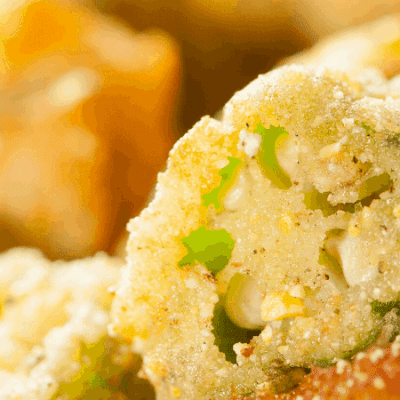 Oven Fried Okra
You can use your oven to produce a crisp coating without frying to create a healthy version of this true southern treat.
Ingredients
2

bags

(12-ounce) frozen whole okra, thawed

1/2

teaspoon

salt

1/2

teaspoon

pepper

2

cups

yellow cornmeal

Cooking oil spray
Instructions
Preheat oven to 475 degrees.

Line a rimmed baking sheet with aluminum foil and spray the foil generously with cooking spray. Set aside.

Spray the inside of a gallon-sized food storage bag with cooking spray. Add the okra, a half-teaspoon of salt, and then pepper. Close the bag and shake to blend well. Let the okra rest for 10 minutes to extract juice from the okra.

Add the cornmeal to the bag and shake vigorously to coat the okra. Let the bag sit for 10 minutes, then, shake it up again.

Using a wide mesh strainer or colander over a large bowl, remove the okra in batches, and shake off excess cornmeal into the bowl. Discard the leftover cornmeal.

Place the coated okra on the sheet pan and continue the process until all the okra is on the pan and the pieces are not touching each other. Spray the okra well with cooking spray.

Bake for 20 minutes. Remove the pan from the oven and stir the okra, trying to turn over as many pieces as possible. Lightly spray them again. Return to the oven for another 20 minutes. Serve immediately.
Notes
Smart Shopping Tips
You may purchase fresh or frozen okra for this recipe.
When purchasing fresh okra, look for fuzzy pods with tips that will bend under slight pressure. They should be bright green and free from blemishes, bruises, and soft spots.
Store fresh okra in refrigerator for up to 3 days.
Cooking & Serving Tips:
Trim the stems off okra and rinse under cold water just before using.
The fuzziness on okra doesn't have to be removed when cooking okra that is young. To remove it from older okra, place under running water and rub the pods gently using a nylon scourer, paper towel or vegetable brush.
Pat the okra dry inside a dishcloth, or spread it out to air dry.
Okra can be boiled, fried, oven roasted or pickled, and is well served in gumbos and stews.
For additional flavor, add garlic, cumin or chili powder to recipe.