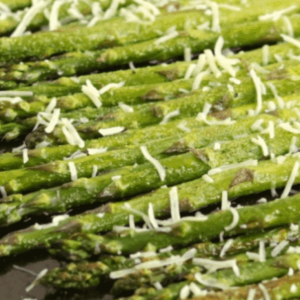 Oven Roasted Asparagus
Roasting vegetables is quick, easy and delicious! The bitterness is cooked away and the natural sugars caramelize. The savory flavors please even those with the most finicky appetites.
Ingredients
1

bunch

thin asparagus spears

(about 25)

3

tablespoons

olive oil

1 1/2

tablespoons

grated Parmesan cheese

(optional)

1

clove

garlic

1/2

teaspoon

salt

1/2

teaspoon

ground black pepper

1

tablespoon

lemon juice

(optional)

Cooking oil spray
Instructions
Preheat oven to 425 degrees.

Wash asparagus and pat dry. Trim off and discard about an inch from the bottom end of the asparagus. Use a vegetable peeler to remove tough skin from the remaining stem. Peel and finely chop garlic.

Place the asparagus into a mixing bowl, and drizzle with olive oil. Toss to coat the spears, then sprinkle with Parmesan cheese, garlic, salt and pepper. Spray a baking sheet pan with cooking spray. Arrange the asparagus onto prepared pan in a single layer.

Bake in the preheated oven until just tender, 12 to 15 minutes depending on thickness. Sprinkle with lemon juice just before serving.
Notes
Smart Shopping Tips
Choose asparagus that is firm and fresh looking with tightly closed tips. Thin asparagus should be about the same size as a pencil.
Asparagus should be cooked the same day as purchased. If storing for a day or two, treat it like cut flowers. Trim the ends and place in a tall glass with a little water. Put a plastic bag over the top and refrigerate.
Cooking & Serving Tips:
Quick cooking methods such as roasting help preserve the nutrients in fresh produce.
Experiment with other seasonings such as thyme, Italian seasoning, onion powder and paprika.
For a quick clean-up, line the baking pan with foil and spray lightly with cooking spray.
Use this method for roasting any vegetables you like. Dense vegetables such as potatoes, winter squash and carrots will take longer than more delicate vegetables such as broccoli and asparagus.