Peach Blueberry Crisp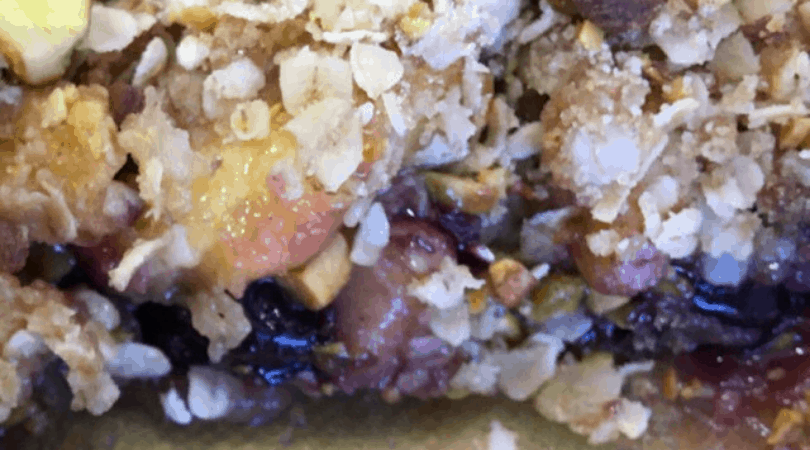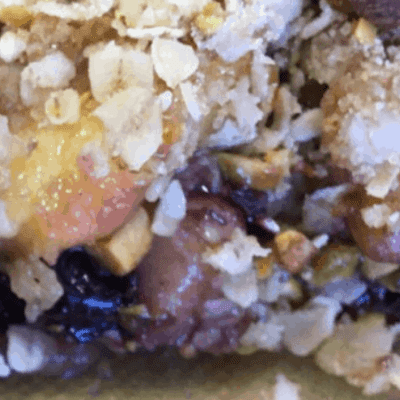 Peach Blueberry Crisp
Heart-healthy pistachios and oats add a crunchy, crowning touch to this satisfying dessert. Use peaches or nectarines, whatever is in season.
Ingredients
Filling:
4

medium

peaches

3

tablespoons

packed brown sugar

2

tablespoons

all-purpose flour

1/2

teaspoon

ground cinnamon

1

cup

fresh or frozen blueberries, thawed
Topping:
2/3

cup

quick-cooking oats

2

tablespoons

packed brown sugar

2

tablespoons

all-purpose flour

2

tablespoons

butter, cut up
Instructions
Preheat oven to 375 degrees.

Wash peaches and fresh blueberries. Peel and slice peaches.

In a large bowl, combine peach slices, brown sugar, flour, cinnamon, blueberries and water. Toss to combine. Spoon mixture into an 8x8-inch square baking pan.

To make the topping, combine the oats, brown sugar and flour in a medium bowl. Using two knives or a pastry cutter, cut in the butter until mixture is crumbly. Sprinkle topping on fruit mixture in baking pan. Top with pistachios

Bake 35-40 minutes or until filling is bubbly and topping is lightly browned.
Notes
Smart Shopping Tips
Pistachios should have a slightly open shell. A closed shell indicates the nut is not yet mature.
A ripe peach will have a slight give to the flesh, but not be rock-hard or too soft. Under-ripe peaches can be stored on the counter until ripe. Once ripened, store in the refrigerator until ready to use.
Cooking & Serving Tips:
Use whole-wheat flour instead of all-purpose flour to add more fiber and nutrition.
To quickly peel stone fruit like peaches or nectarines: use a sharp knife and cut an "x" on the bottom of the fruit and spear with a fork. Submerge whole fruit in boiling water for about 30 seconds. Plunge into an ice bath for a few seconds. The peel should slip off easily.
When using frozen fruit, thaw in refrigerator overnight and drain well before using.