Peach Crisp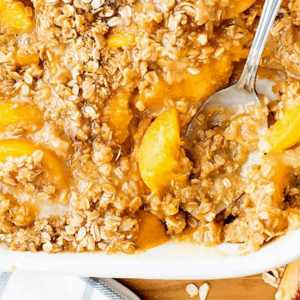 Peach Crisp
This is the perfect dessert when peaches are in season. Fresh, nutritious peaches paired with heart-healthy oats make a family pleasing treat. It's easy to prepare and scrumptious hot or cold!
Ingredients
4-5

peaches

(4 cups sliced)

2

tablespoons

margarine

3/4

cup

quick-cooking oats

1/2

cup

sugar

1/4

cup

flour

2

teaspoons

cinnamon

1

teaspoon

lemon juice
Instructions
Preheat the oven to 375 degrees.

Wash and peel peaches. Remove pit and slice.

Spread the peach slices on the bottom of a small baking pan.

Melt the margarine in a saucepan.

In a medium bowl, mix oats, sugar, flour, cinnamon and lemon juice. Stir until the mixture is well blended.

Sprinkle the oat mixture on top of the peaches.
Notes
Smart Shopping Tips
When buying fresh peaches, give them a sniff. They should be fragrant and smell sweet. They should also yield to slight pressure and not be hard.
Unripe peaches can be placed in a paper bag on the counter for a few days to ripen. Store ripe peaches in the refrigerator. Use them within a week.
Cooking & Serving Tips:
Instead of cinnamon, try an apple pie spice blend.
Try with any fruits in season or canned fruit.
Serve warm with a scoop of frozen yogurt.
Most of a peach's nutrients are in the peel. If you don't like the peel, here's a quick way to remove it. Using tongs, dip the peach in boiling water for 30 seconds. Right after that, plunge the peach into cold water. The peel will come off easily.