Peanut Butter and Banana Pockets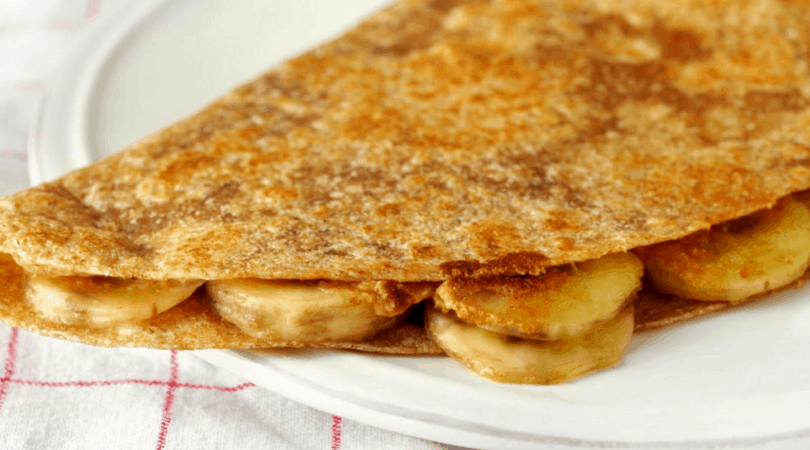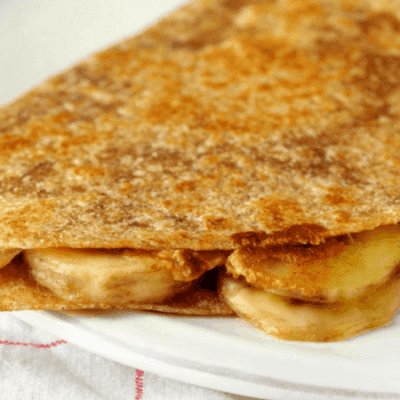 Peanut Butter and Banana Pockets
Peanut butter and bananas are always a good combination, making this a sweet, healthy and kid-friendly recipe. This treat will be sure to please for breakfast, as an after-school snack, or even for dessert.
Ingredients
3

ripe

bananas

3

tablespoons

creamy peanut butter

1-1/2

teaspoons

honey

1/4

teaspoon

ground cinnamon

4

(8-inch)

whole wheat tortillas

Cooking oil spray
Instructions
Peel and slice bananas about 1/4-inch thick.

In a small bowl, stir together peanut butter, honey and cinnamon.

Lay tortillas flat. Spread about 1 tablespoon of the peanut butter mixture on one half of each tortilla.

Divide banana slices evenly among tortillas. Arrange in a single layer over peanut butter mixture. Fold each tortilla in half.

Coat a large skillet with nonstick cooking spray. Heat over medium-high heat.

Place folded tortillas in the skillet. Cook for 1–2 minutes on each side, or until golden brown.
Notes
Smart Shopping Tips:
When purchasing bananas, choose those that are firm, bright in appearance, and free from bruises.
The best eating quality for bananas is reached when they are solid yellow and specked with brown. Bananas with green tips or no yellow color have not developed their full flavor.
Cooking & Serving Tips:
For a richer flavor, stir 2 tablespoons of low-fat cream cheese into the peanut butter mixture. Let cheese come to room temperature before adding.
To serve as a dessert, add melted chocolate sauce or sprinkle a few chocolate chips inside the pita pocket while cooking.
Try different fruit combinations, such as peaches or berries.
If you use only half a banana, dip the cut end in orange or lemon juice. Cover end in plastic wrap and refrigerate.  The peel will turn dark but it is safe to eat.