Ratatouille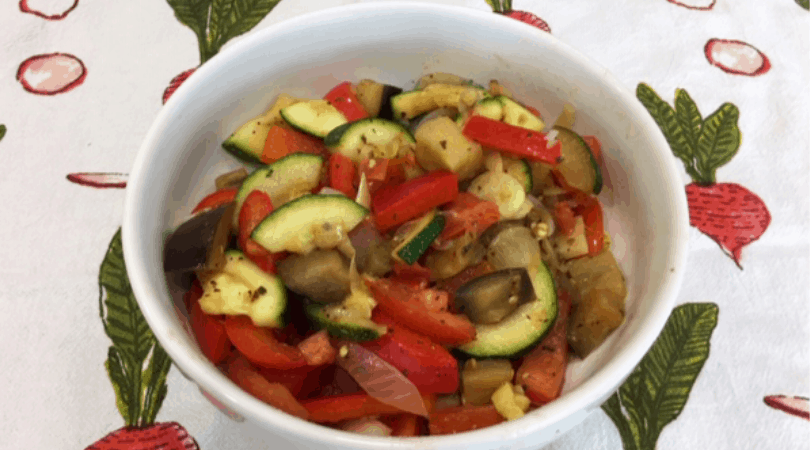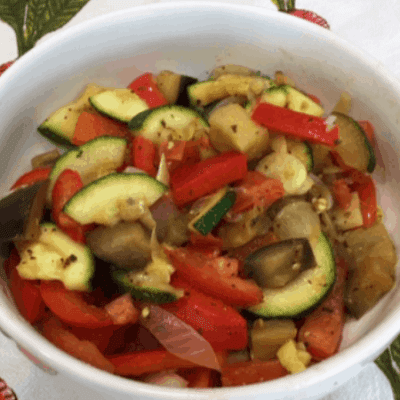 Ratatouille
Ratatouille is a dish which originated in France as a filling meal using the farmer's bountiful harvest. It is a versatile dish that can be served in many ways. It's a great way to get more veggies into your meals!
Ingredients
3

tablespoons

olive oil

4

cloves

garlic

1

small

bay leaf

1

small

eggplant

1

small

zucchini

1

red

bell pepper

4

plum

tomatoes

1

teaspoon

salt

1/2

cup

shredded fresh basil leaves

Freshly ground black pepper, to taste
Instructions
Wash all produce. Thinly slice onion. Peel and thinly slice garlic.

Trim ends from eggplant and chop into 1/2-inch pieces. Cut zucchini in half lengthwise and slice. Slice bell pepper. Chop tomatoes.

Over medium-low heat, add the oil to a large skillet with the onion, garlic and bay leaf, stirring occasionally, until the onion has softened.

Add the eggplant and cook, stirring occasionally, for 8 minutes or until the eggplant has softened.

Stir in the zucchini, red bell pepper, tomatoes and salt, and cook over medium heat, stirring occasionally, for 5 to 7 minutes or until the vegetables are tender. Stir in the basil and a few grinds of pepper to taste.
Notes
Smart Shopping Tips
Choose eggplant that is heavy for its size, with unblemished skin and a fresh looking green cap.
Choose eggplant with glossy skin free of blemishes. Reject any with shriveled skin or cuts. The cap should look green and fresh.
A ripe eggplant will not be rock-hard, but will have a little "give" to light pressure.
Fresh squash will be firm and not look shriveled. The skin is delicate so there may be a few nicks.
Cooking & Serving Tips:
Serve as a side dish for grilled meat, poultry or fish. It can also be used to top pasta or a filling for wraps.
Ratatouille tastes better the next day after flavors have melded. Make a double batch and freeze serving-size portions.
Dry basil can be substituted for fresh. Dry herbs are added at the beginning of cooking, so stir in a tablespoon and simmer with the vegetables.