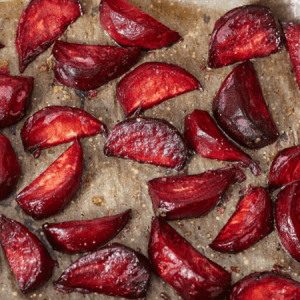 Roasted Beets
If someone in you family doesn't like beets, try preparing them this way! Roasting mellows the flavors and brings out the natural sweetness.
Ingredients
4

beets

2

tablespoons

olive oil

1

teaspoon

dried basil leaves

1

tablespoon

balsamic vinegar (optional)

Pinch salt, or to taste

Freshly ground black pepper

Cooking spray
Instructions
Preheat oven to 425 degrees.

Scrub beets well and pat dry. Cut into 3/4-inch cubes.

Line a baking sheet with foil. Spray lightly with cooking spray.

Toss the beets, olive oil, vinegar and basil in a bowl until beets are coated, and arrange pieces of beet on baking sheet so that they don't touch. Sprinkle the beets with salt and pepper.

Place in oven and roast until tender, about 20-30 minutes. Test for tenderness with a fork.
Notes:
Beets can be peeled if preferred, but it isn't necessary.
Notes
Smart Shopping Tips
Select beets which are firm and heavy for their size. Beet are sometimes sold with greens attached. The leaves should be bright green and look fresh. Smaller beets will be more tender than larger ones.
Other varieties of beets include Golden and Candy Stripe. Flavors vary slightly but all beets can be prepared the same way.
Trim off greens before storing in the refrigerator, one or two inches from the top of the beet. Wash beets just before cooking.
Cooking & Serving Tips:
Save the greens! Beet greens are nutritious and can be prepared like other greens such as chard and bok choy. Sauté them or use them raw in salads.
Season with any herbs you like. Rosemary or thyme are other good choices.
Mix red and yellow beets for a colorful dish, or mix sweet potato cubes with the beets.
Roasted, cubed beets are also great on salads.