Roasted Butternut Squash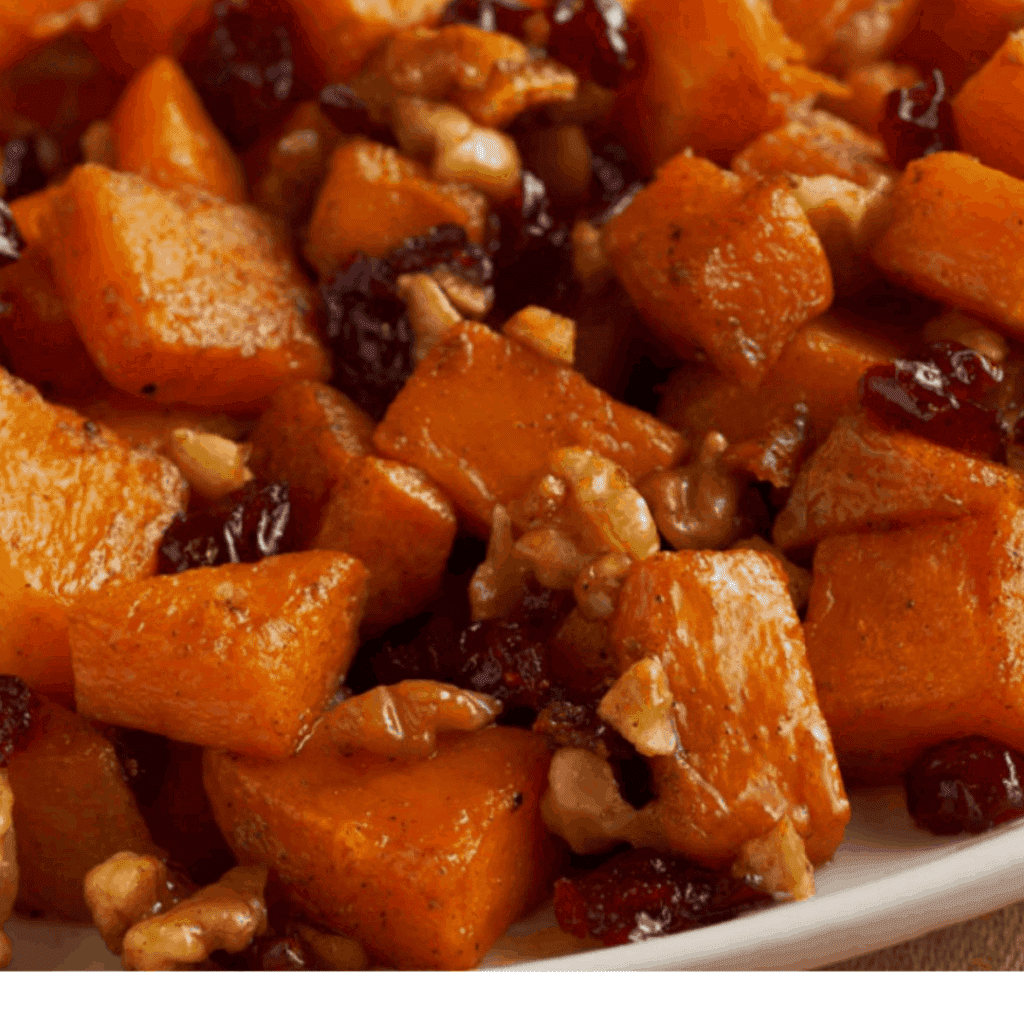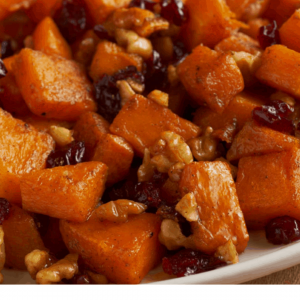 Roasted Butternut Squash
Fresh herbs and seasoning bring out the sweetness of  butternut squash in this quick and easy side dish. It's perfect with a cozy winter meal.
Ingredients
1

butternut squash

(about 2 pounds)

1/4

cup

walnuts

2

tablespoons

canola oil

1

teaspoon

dried sage

1/4

teaspoon

salt

1/4

teaspoon

ground black pepper

1

tablespoon

butter

1/4

cup

dried cranberries

1 1/2

tablespoons

maple syrup or brown sugar
Instructions
Preheat oven to 375 degrees.

Wash squash and use a vegetable peeler to remove the rind.

Microwave squash for 2-3 minutes to soften. Allow to cool; cut off ends and discard. Cut squash in two at the neck, creating a narrow end and a round end. Cut round end in half and scoop out seeds with a spoon. Cut both ends into 3/4 inch, even-size cubes.

Coarsely chop walnuts. Set aside

In a large bowl, add squash. Toss with oil, sage, salt and ground black pepper.

Spread squash evenly on a baking sheet. Roast until tender, stirring once, about 35 minutes.

In a small skillet over medium heat, melt butter. Add walnuts and cook and stir until fragrant, about 2 minutes. Remove from heat. Stir in cranberries and maple syrup.

Gently toss cooked squash with cranberry mixture.
Notes
Smart Shopping Tips
There are a wide variety of winter squash to choose from including acorn, butternut, pumpkin and spaghetti squash.
When purchasing winter squash, select those that feel heavy for their size and are free of blemishes or soft moldy spots.
The hard rinds on winter squash allow them to be stored longer than summer squash. Larger squash will keep longer than smaller squash.
Store squash in a cool, dry, dark place for up to 2 months.
Cooking & Serving Tips:
To bring out flavors even more, stir in 1 tablespoon of cider vinegar along with the cranberry mixture.
If using fresh sage instead of dried, roll four sage leaves into a log shape and slice thinly. Cook fresh sage in butter or oil along with the walnuts.
Use pecans or hazelnuts in place of walnuts.