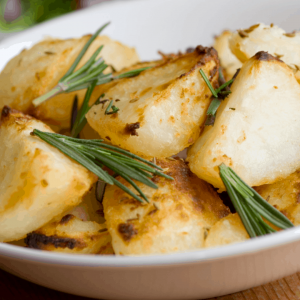 Roasted Potatoes
Oven-roasted potatoes are a great alternative to french fries and go well with any dish. Experiment with your favorite herbs and seasonings to find the perfect flavor.
Ingredients
3

medium

potatoes

(about 1 pound)

2

teaspoons

olive oil

1

teaspoon

finely chopped fresh rosemary

1/2

teaspoon

salt
Instructions
Preheat oven to 450 degrees. Spray a baking sheet with cooking spray or line with foil.

Wash and dry potatoes. Cut into 1/2-inch cubes and place in a large bowl.  Add oil, rosemary and salt. Toss to evenly coat potatoes.

Spread potatoes in a single layer on the baking sheet. Bake for 15 minutes and turn potatoes over. Bake another 10-15 minutes or until potatoes begin to brown.
Notes
Smart Shopping Tips:
Potatoes are great for buying in bulk because they can be stored for several weeks.
For the longest shelf life, store potatoes in a paper bag in a cool, dry place away from sunlight.
Do not store potatoes with onions. Onions give off a gas that will cause potatoes to sprout.
Cooking & Serving Tips:
Add other root vegetables like sweet potatoes, carrots or beets for added color and flavor.
Refrigerate leftovers and use in a cold potato salad.
Use about 1/4 teaspoon of dry rosemary in place of fresh. Try other herbs such as parsley or dill. Add garlic or onion powder for extra flavor.
Add a pinch of cayenne pepper for some heat.