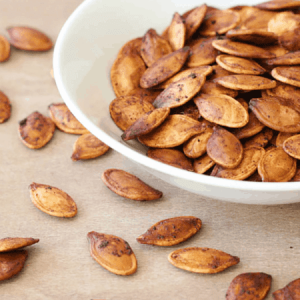 Roasted Pumpkin Seeds
If you make fresh pumpkin pie, save the seeds! After being washed and dried, pumpkin seeds can be roasted with a variety of seasonings for a tasty and nutritious snack.
Ingredients
2

cups

fresh pumpkin seeds (from 1 large pumpkin)

salt to taste

2

tablespoons

canola oil
Instructions
On a clean work surface, remove seeds from the stringy flesh of the pumpkin. Try to remove as much pumpkin from the seeds as possible. Put seeds in a colander and rinse off any remaining pumpkin and juice.

Once seeds are thoroughly cleaned, bring a small pot of salt water to a boil. Add seeds and boil for 10 minutes. Drain well and transfer to a baking sheet lined with paper towels. Leave to dry overnight, or pat dry with paper towels.

Preheat oven to 350 degrees. Transfer seeds to a bowl and toss with oil and other seasonings (see back for suggestions). Line a baking sheet with foil, and spread seasoned seeds in a single layer on the sheet.

Bake seeds in the oven for about 30 minutes, stirring them around every 10 minutes. Taste after 30 minutes and bake longer if needed. Seeds should be crispy and have a lightly toasted taste when they are done.  
Notes
Smart Shopping Tips
Save raw pumpkin seeds in the fridge or freezer for several months, and roast them whenever you have time.
Cooking & Serving Tips:
You can roast the seeds of other winter squash like butternut, spaghetti or acorn as well.
Try these sweet and savory seasonings for added flavor. Mix and match your favorite herbs and spices to find the right combination for you. You can try cinnamon, brown sugar, grated orange zest, ginger, garlic salt, cumin, paprika, red pepper flakes and cayenne to name a few.