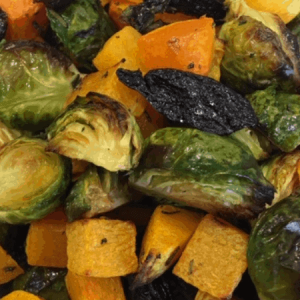 Roasted Veggies with Dried Plums
Roasting veggies brings out their natural sugars and makes them plain delicious! Dried plums add a sweet bite to the savory veggies.
Ingredients
1

(24-ounce)

bag fresh Brussels sprouts

1

medium

butternut squash

2

tablespoons

olive oil

2

tablespoons

chopped fresh rosemary

1

teaspoon

salt

Cooking oil spray

8

cloves

garlic

1/2

cup

dried plums
Instructions
Preheat oven to 400 degrees. Wash vegetables.

Quarter Brussels sprouts. Cut squash in half lengthwise and scrape out seeds and membranes. Peel and chop squash into 1/2 inch cubes. Peel garlic and slice. Roughly chop dried plums.

In a large bowl, combine Brussels sprouts, squash, olive oil, rosemary and salt.

Line 2 baking sheets with foil and spray with cooking oil spray. Spread vegetable mixture onto both pans in a single layer.

Bake for 20 minutes. Remove from oven and toss with sliced garlic and dried plums. Bake another 15 minutes or until vegetables are tender.
Notes
Smart Shopping Tips
Butternut squash should be heavy for its size and have skin free of blemishes.
If bagged Brussels sprouts aren't available, select about 1 1/2 pounds of fresh in bulk. Trim off the bottom of the stem before quartering. 
Cooking & Serving Tips:
Any type of firm vegetables can be cooked this way. Use whatever is in season and inexpensive.
Use any combination of fresh or dried herbs. Add some freshly ground black pepper, paprika, or any spice you like.
A few tablespoons of bacon bits at the end of baking will add some smoky flavor.
The smaller the pieces are, the less time it takes to cook. Make sure all the vegetables are about the same size to cook evenly.