Sauteed Butternut Squash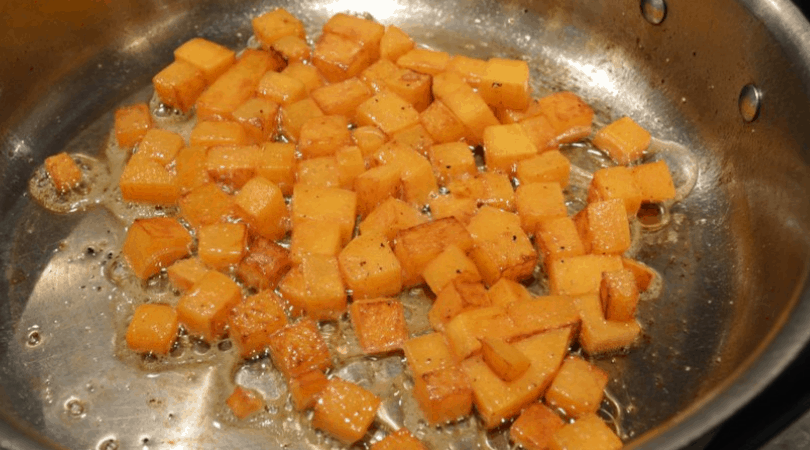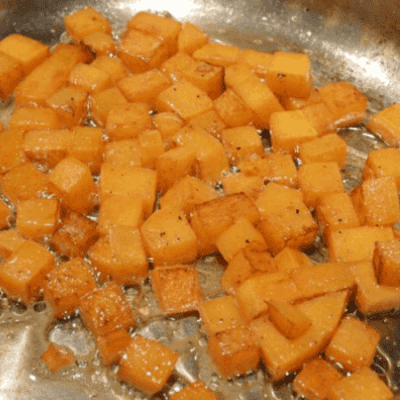 Sautéed Butternut Squash
Sautéing butternut squash in olive oil quickly yields perfectly cooked results and slightly caramelizes the squash for extra flavor. This recipe makes a delicious vegetable side dish to pair with roasted meats. Recipe courtesy of eatingwell.com.
Ingredients
1

large butternut squash (2-3 pounds)

1

tablespoon

olive oil

salt and pepper to taste
Instructions
Wash squash. Cut in half crosswise where the thinner part begins to widen. Peel halves. Cut each part in half lengthwise and scoop seeds and membranes out of the larger end.

Cut squash into small, bit-size chunks.

Heat oil in a large saucepan over medium heat. Add squash; cook, stirring frequently, until tender and lightly browned, about 15 minutes.
Notes
Smart Shopping Tips
Buy butternut squash that is heavy for its size and has no blemishes or soft spots on the skin. Avoid those with any cuts which can allow bacteria to enter the squash.
Squash can be purchased already cut up. It can be found fresh in bags in the produce section and in the frozen vegetable section. Frozen will usually be cheaper than the fresh. 
Cooking & Serving Tips:
Add some fresh minced garlic during the last few minutes of cooking.
Top with a little grated Parmesan cheese.
Garnish with fresh, chopped parsley or chives.
Squash can be peeled and cubed several days before cooking. Store tightly covered in the refrigerator until use.