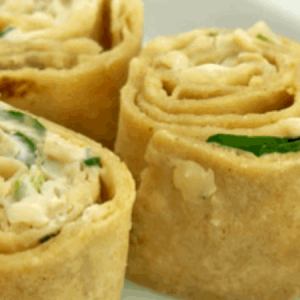 Southwest Pinwheels
Kids will love helping make these fun and easy snacks. Pinwheels can be made with a variety of ingredients, and the herbs and spices in this recipe give them a tasty southwest flavor.
Ingredients
2

scallions

2

tablespoons

cilantro

cup

fresh baby spinach

4

ounces

light cream cheese

2

tablespoons

salsa

1/2

teaspoon

cumin

1/4

cup

finely shredded cheddar cheese

2

10-inch

whole wheat tortillas
Instructions
Set cream cheese out to soften for 15 minutes while you gather other ingredients .

Wash scallions and slice very thin. Rinse and finely chop cilantro. Rinse spinach in cool water and let drain.

In a small bowl, mix together cream cheese, shredded cheese, scallions, salsa, cilantro and cumin.

Divide cream cheese mixture evenly between the 2 tortillas, then evenly spread mixture over each tortilla, being sure to spread the mixture all the way to the edges.

Pat spinach dry with a clean towel if it is still wet. Lay spinach leaves in a single layer over the cream cheese mixture.

Roll up tortillas tightly. Wrap each roll in plastic wrap and chill in the fridge for up to 8 hours if prepping ahead.

Before serving, remove wraps from plastic and cut into 1-inch slices. You will get 10 pinwheels from each wrap.
Notes
Smart Shopping Tips
To save money on tortillas and other baked goods, buy in bulk when they are on sale and freeze extras. Thaw in the fridge or oven before using.
Look for store brands of cheese, as these are cheaper than brand name varieties.
Choose cilantro that is firm and bright green. Wrap a damp paper towel around the stems and store in a plastic bag in the refrigerator. It will keep for about a week.
Cooking & Serving Tips:
Make ahead of time! Wrap finished, uncut rolls in plastic, then in foil, and store in the freezer for up to 3 months. To serve, let thaw in the fridge for 1-2 days.
Frozen spinach can easily be used instead of fresh. Stir thawed, well-drained spinach into the cream cheese mixture before spreading on tortillas.
Try flavored tortillas like spinach or tomato for a more colorful snack!