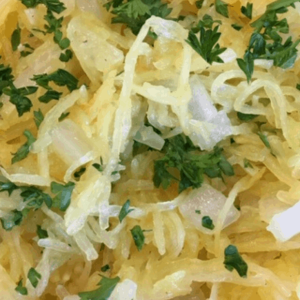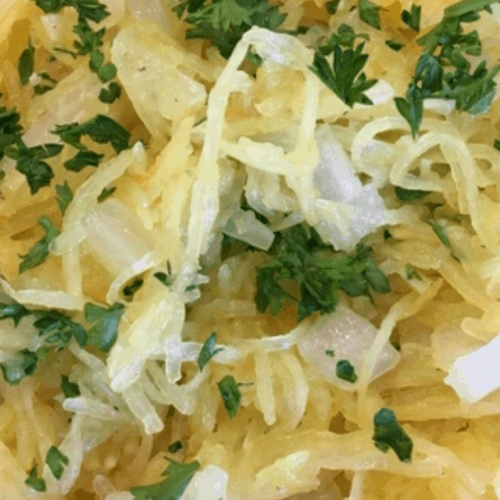 Spaghetti Squash Sauté
Spaghetti squash is a vegetable alternative to spaghetti. It has a mild flavor and crunchy texture and can be used with any toppings you would use for pasta.
Ingredients
1

spaghetti squash

Cooking oil spray

2

tablespoons

olive oil

1

small

onion

2

cloves

garlic

Salt and Pepper to taste

Chopped fresh parsley, optional
Instructions
Preheat oven to 350 degrees.

Wash squash and pat dry. Chop onion. Peel and chop garlic.

Cut squash in half lengthwise. Scoop out seeds. Coat a baking sheet with cooking spray and place squash halves cut-side down on pan. Bake about 40 minutes or until tender.

Let squash cool until safe enough to handle. Use a fork and shred squash flesh out of the shell, set aside.

Heat oil in a skillet over medium heat. Sauté onion and garlic until soft. Add squash to skillet and heat through. Season with salt and pepper. Garnish with chopped fresh parsley, if desired.
Notes
Smart Shopping Tips
Select squash that is firm and heavy for its size. It should be free of cracks and soft spots.  If the skin is very shiny, it may have been harvested too early.
Cooking & Serving Tips:
Top cooked squash with marinara sauce, with or without meat.
If you have leftovers, store cooked squash separate from any sauce you may have used. The texture of the squash will change if stored with sauce.
Spaghetti squash can also be cooked whole. Pierce the outside several times with a fork and place in a 400 degree oven for 45 minutes to an hour, depending upon the size of the squash.  Use a knife to test for tenderness.  When cool enough to handle, cut in half and remove seeds.