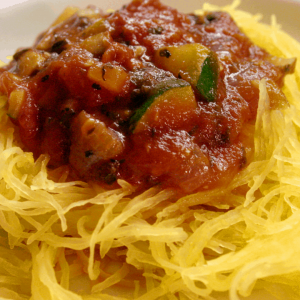 Spaghetti Squash
Spaghetti squash has a yellow, stringy flesh that looks like spaghetti. Spaghetti squash has more nutrients than pasta, and this dish is packed with nutritious, savory vegetables.
Ingredients
1

spaghetti squash

1

tablespoon

canola oil

1/2

medium

onion

2

cloves

garlic

6-8

large

mushrooms

1

large

carrot

4

plum

tomatoes

1

teaspoon

dried oregano

1

teaspoon

dried basil

Pepper to taste

1

can

(8-ounce) tomato sauce

1

small

zucchini

(optional)
Instructions
Preheat oven to 400 degrees. Pierce spaghetti squash with a fork several times all over. Place whole squash in oven and cook for 45 minutes to 1 hour. Squash is done when a knife can be easily inserted. Remove from oven and let cool.

While squash is cooking, prepare sauce. Clean mushrooms with a damp paper towel and chop into small pieces. Scrub and grate carrot. Dice onion and mince garlic. Wash and dice zucchini and fresh tomatoes, or lightly drain canned tomatoes.

Heat oil in a large skillet over medium heat. Add onion and garlic, and sauté until fragrant. Add mushrooms, zucchini (if using) and carrots, and sauté for 3-5 minutes. Add tomatoes, oregano, basil and pepper, and cook 4-6 minutes longer until all vegetables are tender. Stir in tomato sauce, reduce heat and let simmer 10-15 minutes.

While sauce is simmering, cut squash in half. Scrape out seeds from center. Using a fork, scrape out the stringy flesh. Top with vegetable sauce to serve.
Notes
Smart Shopping Tips
Spaghetti squash is a large oval-shaped squash with yellow skin. Look for squash that is heavy for its size, with a smooth rind that is free of spots and cracks.
Spaghetti squash has a very mild flavor with a little sweetness and can be used in both savory and sweet dishes.
Store squash in a in a cool, dry dark place for several weeks.
Cooking & Serving Tips:
Save the seeds! After the seeds are washed and dried, you can roast them like pumpkin seeds.
Toss with small amount of olive oil and fresh herbs, or serve chilled with red pepper, olives, and feta cheese.
When using half an onion, tightly wrap the unused half in plastic wrap or place in a sealed plastic bag and use within a week.
Substitute one 15-ounce can of diced tomatoes for fresh.