Spring Vegetable Sauté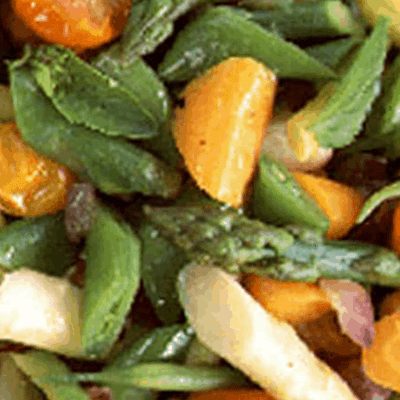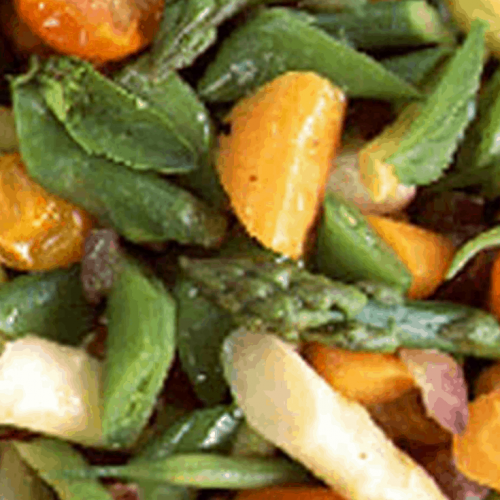 Spring Vegetable Sauté
This simple, healthy dish can be added to lunch, dinner, or served a la carte. Add it to pastas, salads and wraps or serve it alongside your favorite meat.
Ingredients
1

teaspoon

olive oil

1/2

onion

1

clove

garlic

3

small

new potatoes

2

medium

carrots

3/4

cup

asparagus pieces

3/4

cup

sugar snap peas

1/2

cup

radishes

1/4

teaspoon

salt

1/4

teaspoon

pepper

1/2

teaspoon

dried dill
Instructions
Wash all vegetables. Cut off tops of radishes.

Peel and finely chop garlic clove. Slice onion and carrots. Quarter potatoes and radishes.

Heat olive oil in a skillet and cook onion for 2 minutes. Add garlic and cook another minute.

Stir in potatoes and carrots. Cover, turn heat to low, and cook until almost tender, about 15 minutes.

If the vegetables start to brown, add a tablespoon or two of water.

Add asparagus, peas, radishes, salt, pepper and dill. Cook about 5 minutes more, stirring often until just tender.
Notes
Smart Shopping Tips:
When purchasing asparagus, look for thin, sturdy spears with tight heads. Fresh asparagus should snap when bent.
Although red radishes are the most widely known, you can also find elongated French Breakfast radishes which are milder than red ones. Daikon are the larger, white carrot-shaped radishes.
Cooking & Serving Tips:
When sautéing vegetables, they should be cut to a uniform thickness and size to ensure they will cook evenly. Stir frequently to promote even browning and cooking.
The browning achieved by sautéing vegetables adds richness to the dish, and because the food is cooked quickly, the flavor and texture can remain intact.
Use any combination of your favorite or seasonal vegetables.