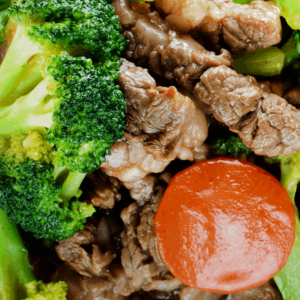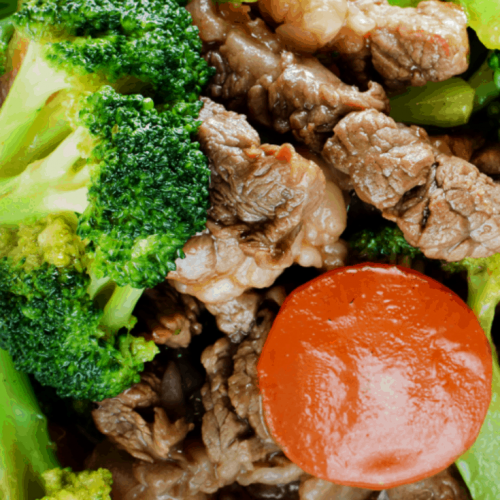 Stir-Fry Vegetables and Beef
A classic stir fry recipe made healthy with lots of flavor. The salty, sweet and slightly spicy soy sauce brings the recipe together.
Ingredients
1/2

pound

broccoli

1

bell pepper

2

ribs celery

1

small onion

2

carrots

1

jalapeno pepper

1

clove

garlic

1

pound

flank steak

2

tablespoons

canola oil

1/4

cup

low-sodium soy sauce

1

tablespoon

brown sugar

1

tablespoon

corn starch

1/2

teaspoon

ground ginger
Instructions
Wash and chop broccoli, bell pepper, celery and onion. Scrub and thinly slice carrots. Rinse and finely chop jalapeno, removing membrane and seeds. Peel and finely chop garlic.

Trim excess fat from meat, and cut across the grain into 2-inch strips.

In a small bowl, stir together the soy sauce, brown sugar, cornstarch and ginger. Add 1 teaspoon of the minced jalapeno. Stir and set aside.

Heat oil in a large frying pan and add meat when oil is hot. Stir until meat has browned, about 3-4 minutes.

Push the meat to the sides of the pan. Add carrots, onions and bell peppers to the middle of the pan. Cook for 1 minute.

Add garlic and broccoli. Cook until they are tender.

Add the liquid mixture and cook until bubbly.

Reduce heat, cover pan and cook for 2 minutes. Serve over hot, cooked rice.
Notes
Smart Shopping Tips
If some of the vegetables are out of season and more expensive, frozen vegetables are a great substitute.
The best beef cuts to use for stir-fry are various sirloin cuts, top loin and rib-eye. Less expensive cuts such as chuck arm, bottom round, flank or brisket can be marinated first to tenderize. Cutting the meat across the grain into small strips also makes a tougher cut seem a bit more tender.
Cooking & Serving Tips:
This dish goes great with whole wheat pasta or brown rice.
If you have any leftover veggies you want to use up, you can throw any of them into this dish, or leave out any vegetables you don't like.
Beef can be switched out with chicken, pork or shrimp. Be sure to check appropriate cooking times for each. Make it vegetarian by using a can of chickpeas (garbanzo beans) instead of meat.
Use fresh, finely chopped ginger instead of dry.