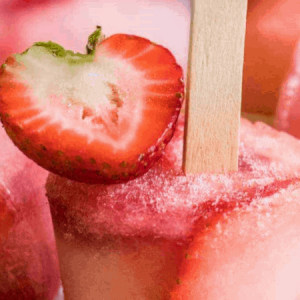 Strawberry Yogurt Pops
Try this cool, fruity treat on a warm day. It's a simple, healthy snack that you can feel good about. Kids will enjoy making and eating these healthy pops!
Ingredients
1

cup

low-fat strawberry yogurt

6

large

strawberries

4

paper cups

4

popsicle sticks
Instructions
Cut strawberries into small pieces.

Divide mixture into 4 small paper cups and add the popsicle sticks.
Notes
Smart Shopping Tips
Fresh strawberries may not always be available, but they can be purchased frozen year-round.
Select strawberries that are a deep, bright red and shiny with tight green caps. Shape and size doesn't affect flavor. Reject packages with mold.
Store berries unwashed in the original package in the refrigerator and use as soon as possible. Make sure there is good air circulation around them to discourage mold.
Cooking & Serving Tips:
Buy berries in season and freeze what you don't use right away. Wash berries and pat dry, then place in a single layer on a baking sheet and freeze. When completely frozen, place berries in a freezer-safe bag or container and mark with the date. Use within a year for best quality.
Frozen berries of any variety can be used instead of fresh in this recipe. Frozen fruit offers the same nutrition as fresh but the texture will be different.
Ice cube trays can be used instead of paper cups, using cut paper straws or pretzel sticks instead of popsicle sticks.