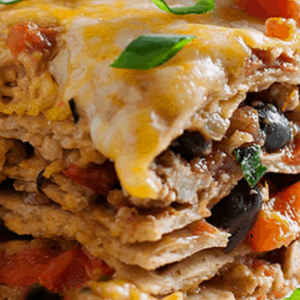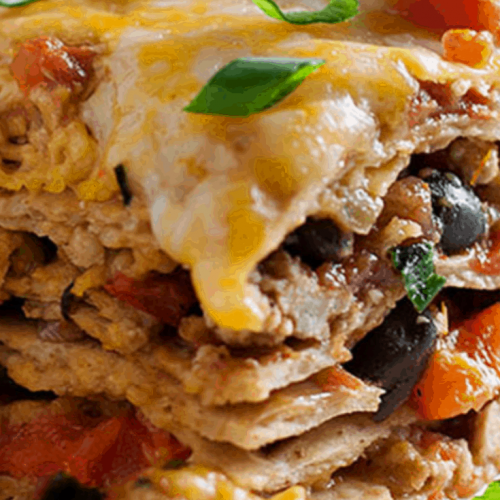 Tortilla Lasagna
This decadently cheesy meal will please any cheese lover. A healthy meatless lasagna option made with tortillas, it has subtle sweet potato hints with hearty mushrooms and fresh green peppers.
Ingredients
1

tablespoon

canola oil

1

yellow

onion

3

cloves

garlic

1

teaspoon

dried oregano

1

can

(28-ounces) crushed tomatoes

1

green

bell pepper

1

cup

mushrooms

1

bay leaf

1

large

cooked sweet potato

12

(5-inch) corn tortillas

1

(6-ounce) package queso fresco

4

ounces

shredded Monterey Jack cheese

1

cup

non-fat plain yogurt

12

sprigs

fresh cilantro
Instructions
Preheat oven to 350 degrees. Wash vegetables. Chop onion, garlic and sweet potato. Slice green pepper and mushrooms. Wipe off top of can of tomatoes.

Heat oil in a large sauté pan and sauté the onion. Cook for about 5 minutes until onion is translucent. Then add the garlic and oregano.

Stir in tomatoes and bring to a boil. Add the green pepper, mushrooms and bay leaf. Let it cook for 5-10 minutes. Remove the bay leaf and then add cooked sweet potato and a pinch of salt.

Combine the queso and Monterey Jack cheese. Place a spoonful of tomato sauce mixture on the bottom of a large casserole dish. Put 3 to 4 tortillas on top of the sauce and sprinkle 1/3 of the cheese mixture on top of the tortillas.

Layer tortillas, cheese, sauce, ending with tortillas topped with cheese. Cover with foil and bake for 25 minutes.

Chop the cilantro and sprinkle it on top of the dish along with a dollop of yogurt.
Notes
Smart Shopping Tips
When buying sweet potatoes, select ones that are free of soft spots and bruises. Make sure to store them in a cool and dark location.
Choose bunches of cilantro that have a good amount of fragrance and are bright green. Avoid ones that have black spots, are wilted, or have a yellow tint. To store cilantro, place in a plastic bag with a damp paper towel wrapped around the stems. Place in refrigerator.
Cooking & Serving Tips:
To add some heat to this recipe, add 1/2 teaspoon of cayenne black pepper and 1/2 teaspoon of red chili pepper.
If you are trying to cut back in fat, you could use fat–free or light cheeses.
Instead of using mushrooms, try using black olives.
A healthier tortilla option would be to exchange regular tortillas for whole wheat.